It's that time of the month again, when the newest Previews catalog arrives from Diamond Comic Distributors! It's a big month for Diamond Select Toys, as they have seven separate items listed for pre-ordering, and each is cooler than the last! Check out what you can pre-order now below!
Knight Rider Super Pursuit Mode KITT 1:15 Electronic Vehicle
A Diamond Select Release! Super Pursuit Mode engaged! This 1/15 scale replica of the Knight Industries Two Thousand (KITT) from the popular TV show Knight Rider measures 14 inches long and features working lights and sound effects from the show, including the distinctive voice of KITT! This special SPM edition depicts KITT with all of his speed-enhancing gadgets extended, and includes exclusive SPM dialogue and sound effects! Get yours today, because they'll go fast! SRP: $59.99
Star Wars Commander Thire Vinyl Bust Bank
A Diamond Select Release! Sculpted by Oluf Hartvigson! One of the greatest Clone Commanders in the Empire's history is memorialized as the newest vinyl bust bank from DST! Commander Thire (born CC-4477) commanded the Coruscant Guard, elite shock troopers that defended the capital and hunted down Separatists during the Clone Wars. This 8-inch vinyl bust bank features a detailed sculpt and paint, as well as a coin slot for inserting loose change. SRP: $22.99
Walking Dead Pet Zombie Metal Bottle Opener
A Diamond Select Release! It's another high-quality Walking Dead product from DST! This 3.5-inch solid metal bottle opener depicts the collared head of one of Michonne's pet zombies from the smash hit comic book series. Simply insert the end of a bottle in this zombie's jawless mouth, and bottle caps will come off with ease! This opener also features magnets on the back for easy refrigerator door display. SRP: $18.00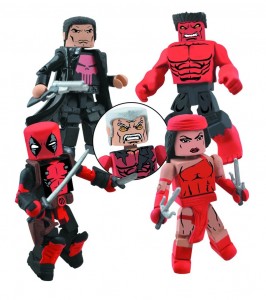 Marvel Minimates Marvel Now Thunderbolts Box Set
A Diamond Select Release! Designed and Sculpted by Art Asylum! The newest incarnation of the Thunderbolts may be the deadliest team yet! This box set of four Minimates mini-figures draws from the latest Thunderbolts line-up, as seen in the current Marvel Now comic, and includes Deadpool, The Punisher, Elektra and Red Hulk, who can transform into General "Thunderbolt" Ross! Each Minimate stands 2 inches tall and includes a variety of interchangeable parts and accessories. SRP: $19.99
Star Wars Darth Vader Magnetic Metal Bottle Opener
A Diamond Select Release! I find your lack of a bottle opener disturbing! Make sure you always have a way to open tasty beverages with this solid metal bottle opener, depicting the portrait of Darth Vader, Lord of the Sith! It measures 4 inches long, has magnets on the back and opens any bottle cap with ease. It's an elegant tool for a more civilized age! Comes packaged in a collector's case with a full-color wrap. SRP: $18.00
Star Trek Captain Kirk Granix Slate Artwork
A Diamond Select Release! No matter who you think the greatest captain of the Enterprise was, you have to give props to James T. Kirk. Tough, diplomatic, funny, charming… he was the total package! Set your love for Captain Kirk in stone with this this 7.5″ by 5.5″ slate plaque, painstakingly emblazoned with a full-color portrait of the legendary starship captain.Each Granix block comes with a display stand for shelf or desktop display. SRP $34.99
Marvel Minimates Marvel Zombies Villains Box Set
A Diamond Select Release! Designed by Art Asylum! The end of days must be upon us, because Marvel Zombies Minimates are back! Just in time for Halloween ComicFest, DST and Art Asylum have zombified four already-frightening villains of the Marvel Universe: the Red Skull, the Green Goblin, Magneto and Galactus! Each Minimate stands 2 inches tall with a variety of interchangeable and decomposing parts. Packaged in a full-color window box. SRP: $19.99 You can find your nearest comic shop at
comicshoplocator.com
!