The new Previews catalog from Diamond Comic Distributors is always chock-full of awesome new products, but this month's Diamond Select Toys offerings are more awesome than ever! Not only is DST kicking off its new line of Batman resin busts, they've got an upsized Mr. Stay Puft bank, the first Ghostbusters Minimates in eons, and the most Deadpool-tastic Marvel Minimates box set ever! Plus Knight Rider, Dawn and Marvel Select! The catalog hits at the end of the month, and the products won't be out until early 2014, but you can take a gander and pre-order them now!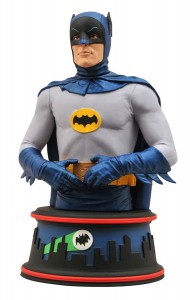 Batman Classic TV Series Batman Bust
Holy Bat-busts, Batman! DST kicks off their line of resin busts based on the Batman Classic TV Show with none other than Batman himself, as portrayed by Adam West! This bust measures 6 inches tall, and will be the keystone to any Classic Batman TV Show collection. Designed by Barry Bradfield! Sculpted by Jean St. Jean! (Item code #NOV131814, SRP: $60.00)
Ghostbusters 24″ Stay Puft Marshmallow Man Vinyl Bank
A Diamond Select Release! What did you do, Ray?! Well, we'll tell you what we did – we took our already-popular 12-inch vinyl bank of the Stay-Puft Marshmallow Man and made it even bigger! At two feet tall, this hard vinyl bank of the classic Ghostbusters character will hold a fortune in nickels, and tower over your other Ghostbusters toys! Bank has coin slot its back, plus access door for coin removal. Comes packaged in a clear polybag. Sculpted by Bill Mancuso! (Item code #NOV131816, SRP: $124.99)
Ghostbusters Minimates "I Love This Town" Box Set
A Diamond Select Release! Ghostbusters Minimates are back! The four main Ghostbusters have re-united… for a four-pack based on the final scene of the classic original film! Each 2-inch mini-figure features a new, removable proton pack and various interchangeable parts and accessories (some of them covered with marshmallow). Set comes packaged on a blister card. Designed by Art Asylum! (Item code #NOV131817, SRP: $19.99)
Knight Rider KARR 1:15 Electronic Vehicle
Watch your rear fender, KITT! The evil vehicle KARR (Knight Automated Roving Robot) appeared in two of the most popular episodes of the classic TV show Knight Rider, where he quickly established himself as one of the greatest vehicular bad guys ever! An early prototype of KITT that later became his greatest foe, KARR is now a 1/15 scale electronic replica, measuring 14 inches long with working lights and sound effects, including some of KARR's classic dialogue from the show! Packaged in a window box with a try-me button. (Item Code "NOV131815, SRP: $60.00)
Dawn Sinful Suzi Resin Bust
The angelic artwork of comic creator Joseph Michael Linsner has long haunted our dreams, but his devilish artwork is pretty dreamy, too! Sinful Suzi is in many ways the opposite of Linsner's Dawn character, but she's just as easy on the eyes, and this 6.5-inch resin bust captures the horned harlot in a red corset that just won't stay on. Based on a print by LInsner himself! Sculpted by Jerry Macaluso! (Item code #NOV131818, SRP $70.00
Marvel Minimates Deadpools Assemble Box Set
Deadpool wants his own Marvel Minimates four-pack all to himself, and he's just crazy enough to pull it off! This set includes the Merc with a Mouth as Thor-Pool, Cable-Pool, Captain Ameri-Pool and Iron Deadpool (with an X-Men-outfit Deadpool underneath the armor), plus enough swords and guns to bring down an entire AIM installation! He's a one-man Avengers team! Each Minimate measures 2 inches tall with 16 points of articulation. Packaged in a four-color window box. Designed by Art Asylum! (Item code #NOV131819, SRP: 19.99)
Marvel Select Lizard Action Figure
Here lurks the Lizard! Once Peter Parker's mentor Dr. Curt Connors, the classic Spider-Man foe is now a 7-inch scale action figure in the Marvel Select line! This figure is based on the Lizard's modern comic-book appearances, and includes an alleyway display base. Figure comes in the Select line's display-ready packaging, with side panel artwork. Sculpted by Gabriel Marquez! (Item code #NOV131822, SRP: $24.99)
Marvel Select Black Widow Action Figure
The Widow is about to strike again! Inspired by her late-'90s comic-book appearances, secret agent and Avengers member the Black Widow is now a 7-inch scale action figure in the Marvel Select line! Figure includes a display base featuring Ant-Man and a destroyed Ultron body, and comes packaged in display-ready Marvel Select packaging, with side-panel art for shelf display. Sculpted by Gentle Giant! (Item code #NOV131820, SRP: $24.99) Pre-order at
diamondselecttoys.com
, or go to your favorite online retailer, or find your nearest comic shop at
comicshoplocator.com
!