Another New Toy day has arrived, and a new shipment of Diamond Select Toys items have arrived at your local comic shop! Multiple sets of Minimates mini-figures, from Watchmen, Predator and Forbidden Planet, as well as a popular Back to the Future Time Machine vehicle, are in comic shops now, as well as the fifth assortment of Ghostbusters Movie action figures! Reserve your favorites at your
local comic shop
, or order through your favorite online retailer!
Back to the Future 2 Hover Time Machine Electronic Vehicle
It's time to go back… back to the future! DST has upgraded their bestselling electronic 1:15 scale Time Machine from Back to the Future with the additions shown in Back to the Future 2! Having just arrived in our time from 2015, this Version 2 Time Machine has adjustable hover wheels, the iconic Mr. Fusion fuel device and opening gull wing doors. Vehicle measures approximately 14 inches long, and time-travel lights and sounds are triggered at the push of a button. Packaged in a full-color window box. (Item # FEB172621, SRP: $59.99)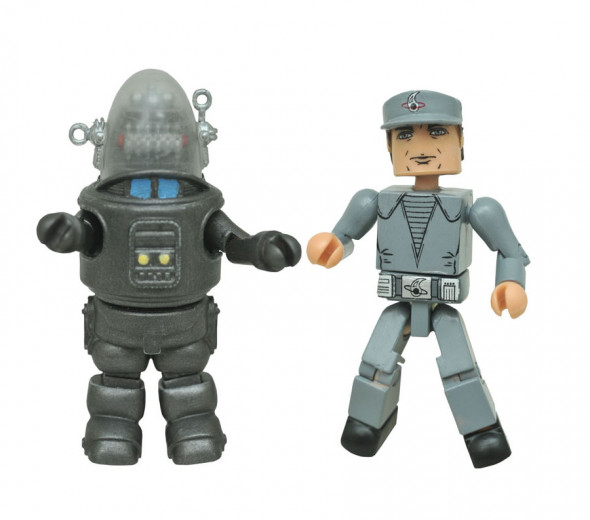 Forbidden Planet Minimates Robby the Robot & Crewman 2-Pack
From the distant world of Altair IV comes Robby the Robot, the most technologically advanced Minimate mini-figure ever made! Based on the robot's iconic appearance in the classic sci-fi film Forbidden Planet, this 2-inch mini-figure of Robby comes packaged in a two-pack with a crewman from the spaceship C-57D. Robby features articulated arms and legs, while the crewman features 14 points of articulation and a laser pistol. Packaged on a full-color blister card. (Item #JAN172655, SRP: $9.99)
Ghostbusters Select Action Figures Series 5 Asst.
Anybody seen any ghosts? The hit toy line based on the horror-comedy classic movie Ghostbusters is back with a fifth series of action figures, and this series is spectrally delicious! Series 5 unleashes three spirits from the original 1984 movie: the
Library Ghost
, the
Taxi Driver Zombie
and a
Terror Dog
! Each 7-inch scale figure features up to 16 points of articulation, as well as character-specific accessories: the Library Ghost comes with a stack of books, the Taxi Driver comes with a steering wheel and the Terror Dog comes with interchangeable horns so it can be either Zuul or Vinz Clortho! Plus, each figure comes with a piece of the rooftop diorama – these are the last three figures you need to complete the whole shebang! Packaged in the trademark Select display packaging, with side panel artwork for shelf reference. Sculpted by Gentle Giant Studios! (Item #NOV162416, SRP: $24.99/ea.)
Predator Minimates Series 4 2-Packs Asst.
The hunt is back on! The epic fourth series of Predator Minimates is based on films from across the popular movie franchise! This assortment includes four exclusive two-packs: Predator Hound with Isabelle (from Predators), Cloaked Elder Predator with Detective Lambert (from Predator 2), Poncho with Cloaked Unmasked Predator (from Predator) and a rare, one-per-case variant 2-pack with Anna and the Cloaked Unmasked Predator! Each two-pack contains at least one figure that is available nowhere else! Each Minimates mini-figure features 14 points of articulation, removable accessories and fully interchangeable parts. Packaged on a full-color blister card. (Item # FEB172624, SRP: $9.99/ea.)
Watchmen Movie Minimates Box Set
We may not know who watches the Watchmen, but now fans of the epic superhero film can watch the Watchmen join their Minimates mini-figure collection! This new box set features four of the movie's heroes and anti-heroes: Dr. Manhattan, Nite Owl, Rorschach and The Comedian! Each 2-inch Minimates mini-figure features 14 points of articulation and fully interchangeable parts and accessories, including alternate unmasked heads. Plus, Dr. Manhattan glows in the dark! Packaged in a full-color blister card. (Item # FEB172622, SRP: $24.99)
Reserve your favorites at your local comic shop, or order through your favorite online retailer!