It's a new Ask DST with Diamond Select Toys president DSTChuck, and this week, we are going the full Marvel, as we take only questions related to Marvel products, in this case Marvel Select action figures and MArvel Gallery PVC dioramas! (Marvel Minimates questions will be answered next week! Read on to see if your question was answered, then submit in the drop-down form up top, or
e-mail DSTChuck!
Daniel U. Greetings from Brazil! I know you have a limit of movie action figures in the Marvel Select line, but the same happens in the Marvel Gallery line? Thanks, I'm a big fan of yours, and can't wait to complete the Marvel Gallery Defenders line-up.
DSTChuck:
Greetings, Daniel! No, there is no limit on the number of Gallery pieces we can make each year. D. R. Hello. I see you answered a couple questions about Apocalypse. I think he is a must make figure for sure and to be done in his 90s style. But one guy commented on doing Blob with him but Archangel in 90s style would make a lot more sense. To be honest, I am very shocked that these characters in those styles have not been done yet. Apocalypse and Archangel are must have figures and DST is the only one to do them right in action figure form. Thanks.
DSTChuck:
Those are all great characters, and if we released more figures each year I would think they would have been done. For sure, we look to the X-Men every time we are thinking about a new comic version of Select figures to do. Isaac R. I wanted to know if you will be producing an action figure from the upcoming Thor: Ragnarok movie of Heimdall, played by Idris Elba? Since the Thor films came out, we haven't had a figure of him.
DSTChuck:
I am sorry, at this time there is no plan to make a Heimdall figure for Thor 3. But there will be an Idris Elba in our Dark Tower line!
Todd H. Any plans for a Nova Prime (Richard Rider) or Nova (Sam Alexander) statue in the PVC Gallery or Premier statue line? Please, please, please!!?
DSTChuck:
Not right now, but we are just working on planning the front part of 2018. Ryan H. Am I allowed to ask if you guys are making a Thanos action figure (not a statue) for 'Avengers Infinity War' next year?
DSTChuck:
You are, of course, allowed to ask, but I am sorry, we are not allowed to talk about our Avengers 3 merchandise yet. Alan F. Any chance of getting any more Marvel Zombies?
DSTChuck:
Hero zombies are not allowed, but villain zombies are possible.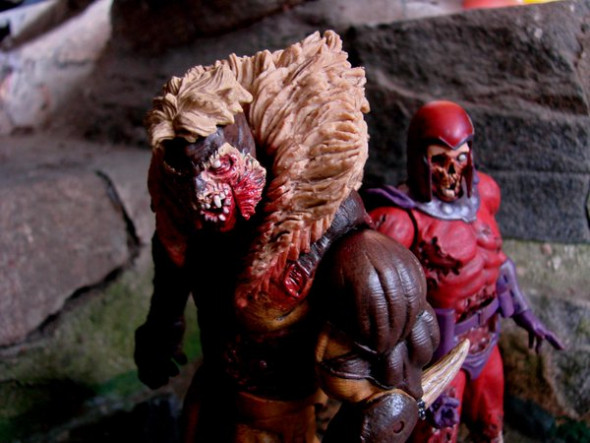 Jorge J. Good day, will you re-start the figure Uatu the Watcher for Marvel Select?
DSTChuck:
Right now, he is not in the plans to be re-run. Jeff S. Hi gang, just got my Ironheart and Luke Cage last week. Stellar work as always. Just placed an order for the Superior Iron Man as well. I noticed that your upcoming Ragnarok Hulk is priced a little more due to his size. I have no problem with this idea. Could this be a new model going forward and lead to some larger characters being made? Hulkbuster Iron Man would sell amazingly well (HINT, HINT) I don't mind the repaint variants of character like Spider-man, but I would really prefer new sculpts. Any chance for Superior Spider-man, or the Iron Spider? I have loved the Spider-verse characters that you have released/announced so far and hope to see even more. Any chance for Superior Spider-man, or the Iron Spider? Any villains such as Venom, Carnage etc. would be greatly appreciated. Also, I am really looking forward to the Ragnarok line, any thoughts on making a Hela and a Loki to round it out? Keep up the great work!
DSTChuck:
Jeff, we do really want to keep the Gallery line at the same price, even when it means we have to take a hit to do something big and cool, BUT sometimes it's not possible, like the Hulk. We don't want the higher SRP to be a crutch, but yes, something bigger for a little higher SRP is possible. I think for the most part we want to stay away from straight repaints, but sometimes they serve a purpose so I can't rule them out.
Vladislav V. Hello, Chuck, quick question. In one of Logan's cut scenes, we see a young mutant holding Sabretooth's figure from Diamond Select in hand and asking Logan about Sabretooth's fate. The question is, if FOX uses your figures in the film, why did you stop making figures on FOX movies right after the failure with Mystique figure?
DSTChuck:
We are always happy to contribute our product to shows and movies and other of those types of things. We've had our products in movies and talk shows and TV series. However, that arrangement does not really relate to producing product for those outlets. Rafael S. Hi! For line Diamond Select, are you planning to release more characters from the X-Men universe? Like Iceman, Beast, Banshee, Sunfire, Rogue. Blob etc. Thanks a lot!!!
DSTChuck:
I am pretty confident an X-Men comic figure WILL be part of the 2018 Select line!
Read past Ask DSTs to see if your question has already been answered, then submit in the drop-down form up top, or e-mail DSTChuck!