Spring 2023 Preview: Marvel, Star Wars, Power Rangers and Green Hornet!
Posted by DSTZach on Sep 16th 2022
It's nearly October, which means it's almost time for the October issue of Diamond Comics' Previews catalog to hit stores! And in its pages you'll find a variety of new products from Diamond Select Toys and Gentle Giant LTD, all of which will hit stores in spring of 2023! Read on for details, then pre-order through your local comic shop or favorite online retailer. Or visit diamondselecttoys.com and gentlegiantltd.com!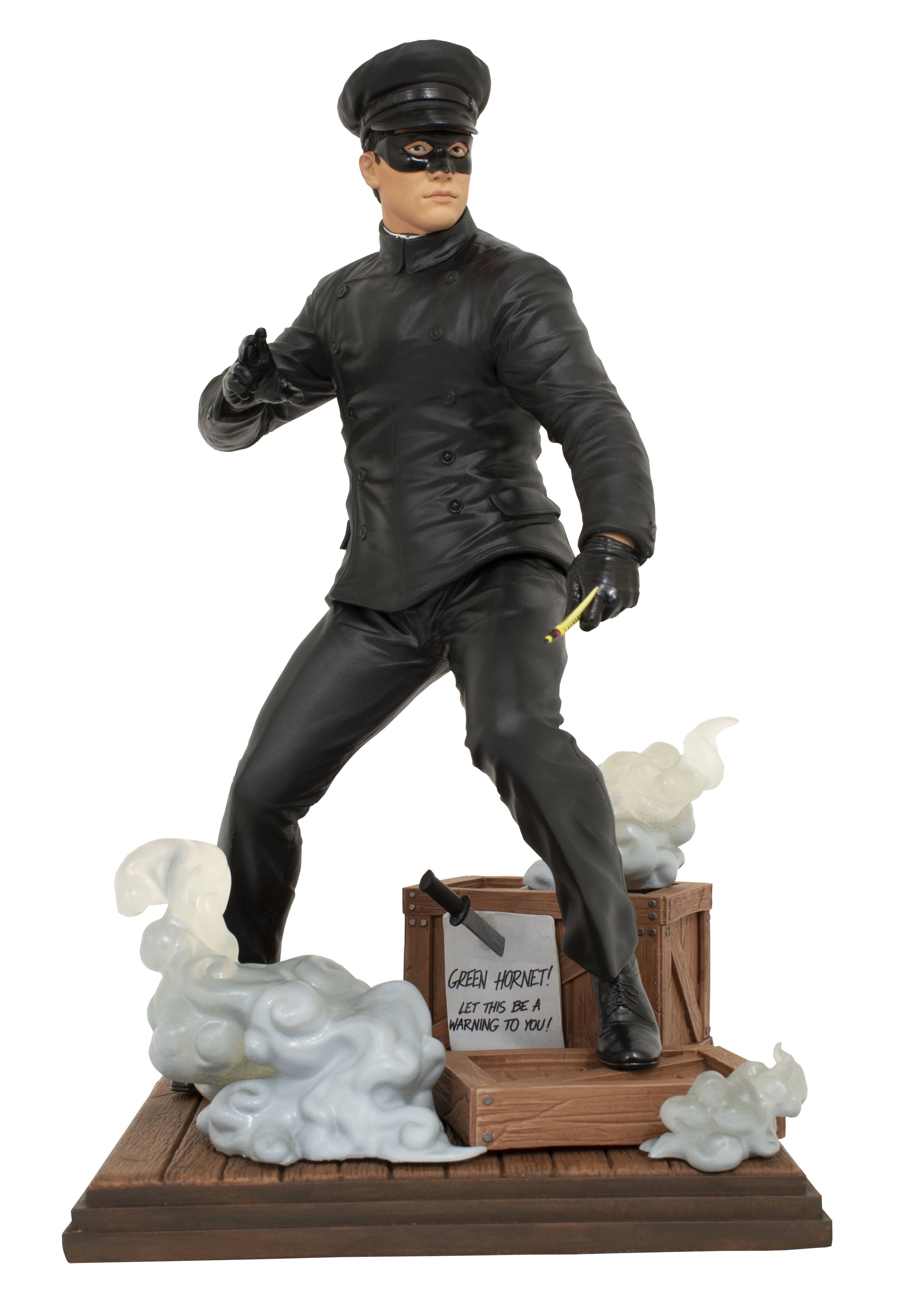 Green Hornet Gallery Kato PVC Diorama
A Diamond Select Toys release! Criminals beware! Kato is here to stop your evil deeds, and no threat will stop him! With one foot atop a smoking create and a Green Hornet dart in hand, Kato stands over a knife stuck in the crate, holding a note that says "Green Hornet! Let this be a warning to you!" Featuring the official likeness of actor Bruce Lee as well as detailed sculpting and paint work, this 10-inch sculpture is made of high-quality PVC and comes packaged in a full-color window box. Designed by Nelson X. Asencio, sculpted by Rocco Tartamella! SRP: $59.99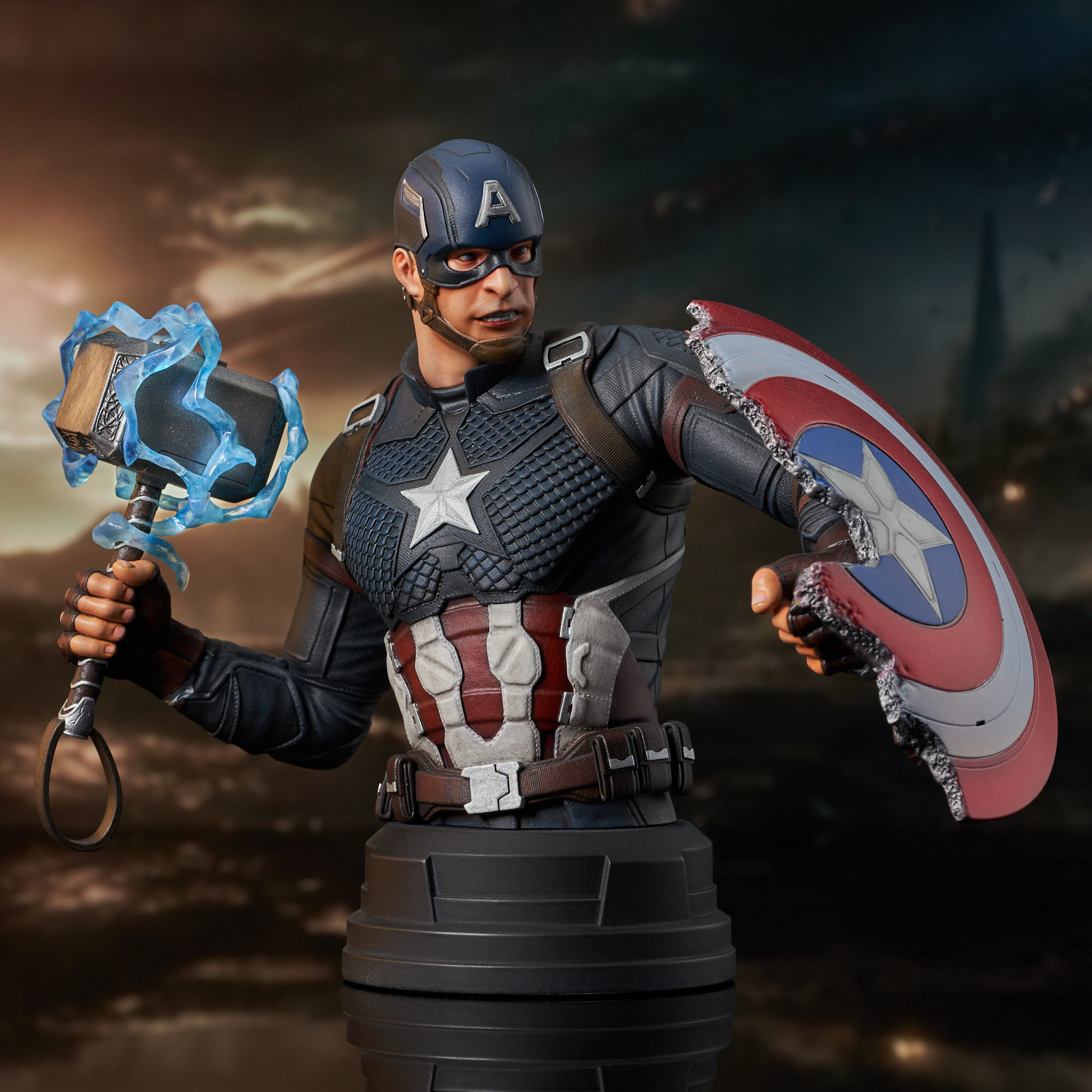 Marvel Avengers: Endgame Captain America 1/6 Scale Mini-Bust
A Diamond Select Toys release! Avengers Assemble! Captain America leads the charge against Thanos with this all-new 1/6 scale mini-bust! Standing 6 inches tall, Cap wields Mjolnir while he holds his damaged shield, all atop a pedestal base. Limited to only 3000 pieces, this sculpture features detailed sculpting and paint applications and comes packaged in a full-color window box. Designed by Joe Allard, sculpted by Joe Menna! SRP: $120.00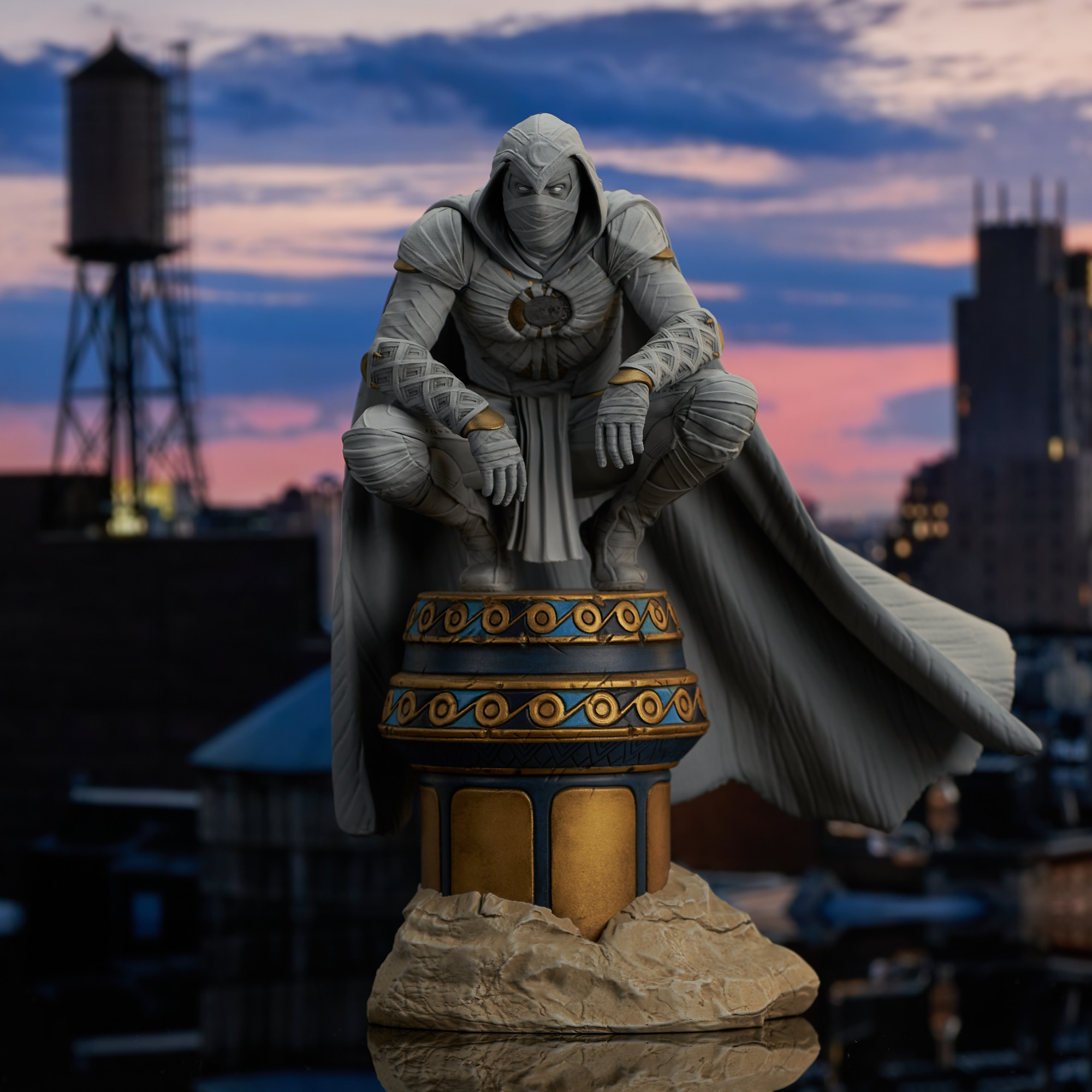 Marvel TV Gallery Moon Knight PVC Diorama
A Diamond Select Toys release! Steven Grant and Marc Spector team up to become the most unusual superhero around – Moon Knight! Based on his appearance in the Disney + Series, Moon Knight crouches on top of an Egyptian column in this approximately 10-inch sculpture. Made of high-quality PVC, it features detailed sculpting and paint applications, and comes packaged in a full-color window box. Designed by the Silva Bros., sculpted by Eduardo Trujillo! SRP: $59.99
Marvel Select Super Skrull Collector's Action Figure
A Diamond Select Toys release! Illuminati beware! Your ranks have been infiltrated by the Skrulls, and this Super Skrull has the powers of all of the Illuminati combined! Never before made as a toy, this green-skinned Skrull comes dressed in an Illuminati-inspired outfit, and includes an interchangeable masked head, as well as interchangeable hands and a devastating Black Bolt sonic attack piece! Standing approximately 7 inches tall and featuring 16 points of articulation, this collector's action figure comes in Select packaging, with side panel artwork for shelf display. Designed by Eamon O'Donoghue, sculpted by Gentle Giant Studios! SRP: $29.99
Marvel Comic Spider-Man 1/7 Scale Mini-Bust
A Diamond Select Toys release! Spider-Sense…tingling! Spider-Man gets an alert on his old Spider-tingle in this all-new resin bust from DST! Standing approximately 6 inches tall on a pedestal base, this 1/7 scale bust captures the wall-crawler in an action pose and features detailed sculpting and paint applications. Limited to only 3000 pieces, it comes packaged with a numbered certificate of authenticity in a full-color box. Designed by Nelson X. Asencio, sculpted by Juan Pitluk! SRP: $90.00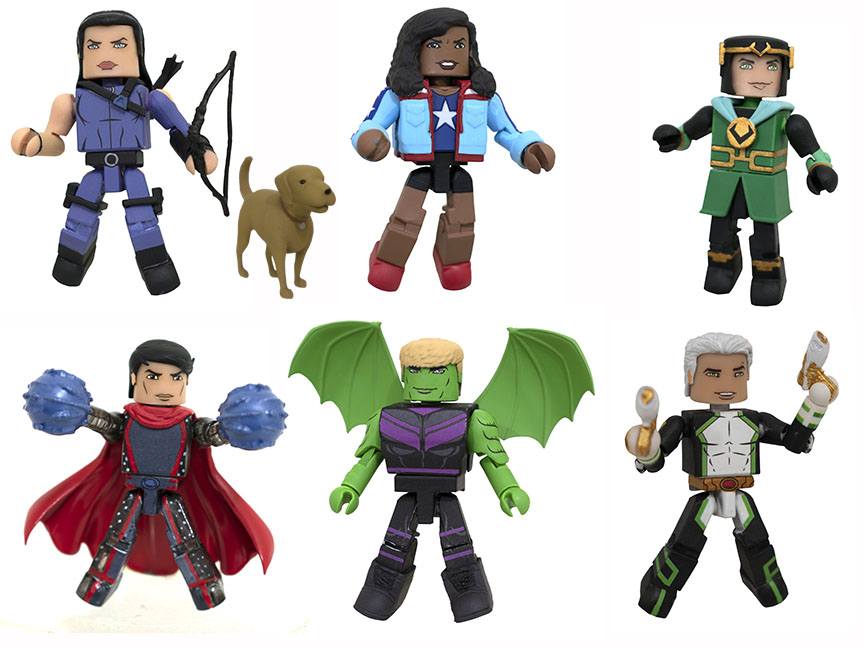 Marvel Minimates Young Avengers Deluxe Box Set
A Diamond Select Toys release! Young Avengers, assemble! The next Marvel Minimates Deluxe Box Set is here, and it's all about the Young Avengers! Featuring team mainstays Kate "Hawkeye" Bishop, Wiccan and Hulkling, plus new members America Chavez, Kid Loki and Noh-Varr, it's a veritable who's who of rising Marvel superstars! Plus, the set comes with a figurine of Hawkeye's dog Lucky, a.k.a. Pizza Dog! Each Minimate features up to 14 points of articulation and detailed paint applications, and all six Minimates come packaged in a full-color window box with an illustrated fifth panel featuring original Minimates artwork. Designed and illustrated by Barry Bradfield! SRP: $49.99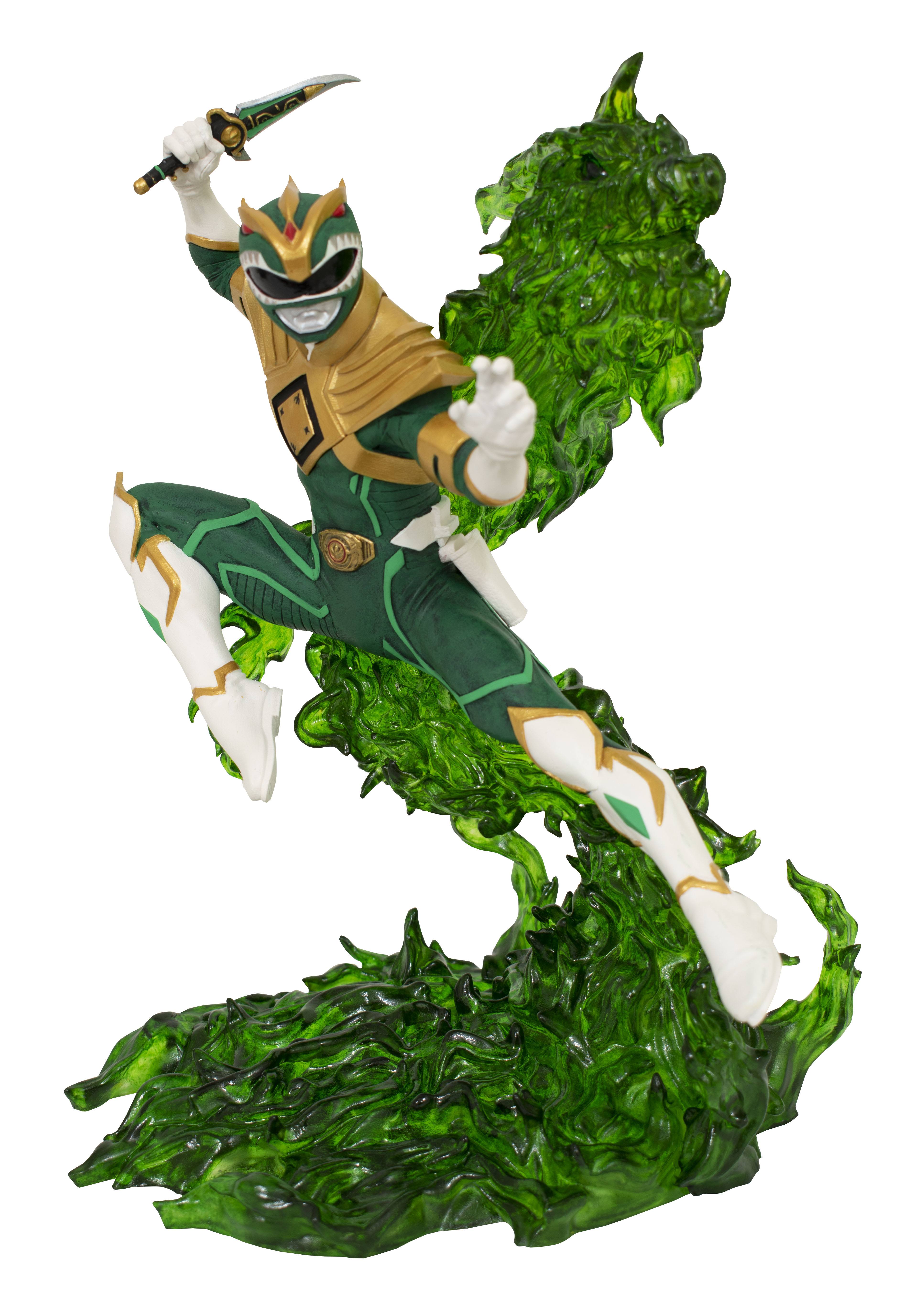 Mighty Morphin' Power Rangers Gallery Green Ranger PVC Diorama
A Diamond Select Toys release! Time to go Green! The first-ever Power Rangers Gallery Diorama is a sculpture of none other than Matthew Cook, the new Green Ranger! Based on his appearance in the Boom! comic book series, Matthew wears his updated Green Ranger outfit and wields his Dragon Dagger as he leaps out of a swirl of green dragon energy. Standing approximately 10 inches tall, this diorama is made of high-quality PVC and features detailed sculpting and paint applications. It comes packaged in a full-color window box. Designed by Joe Allard, sculpted by Salvador Gomes! SRP: $59.99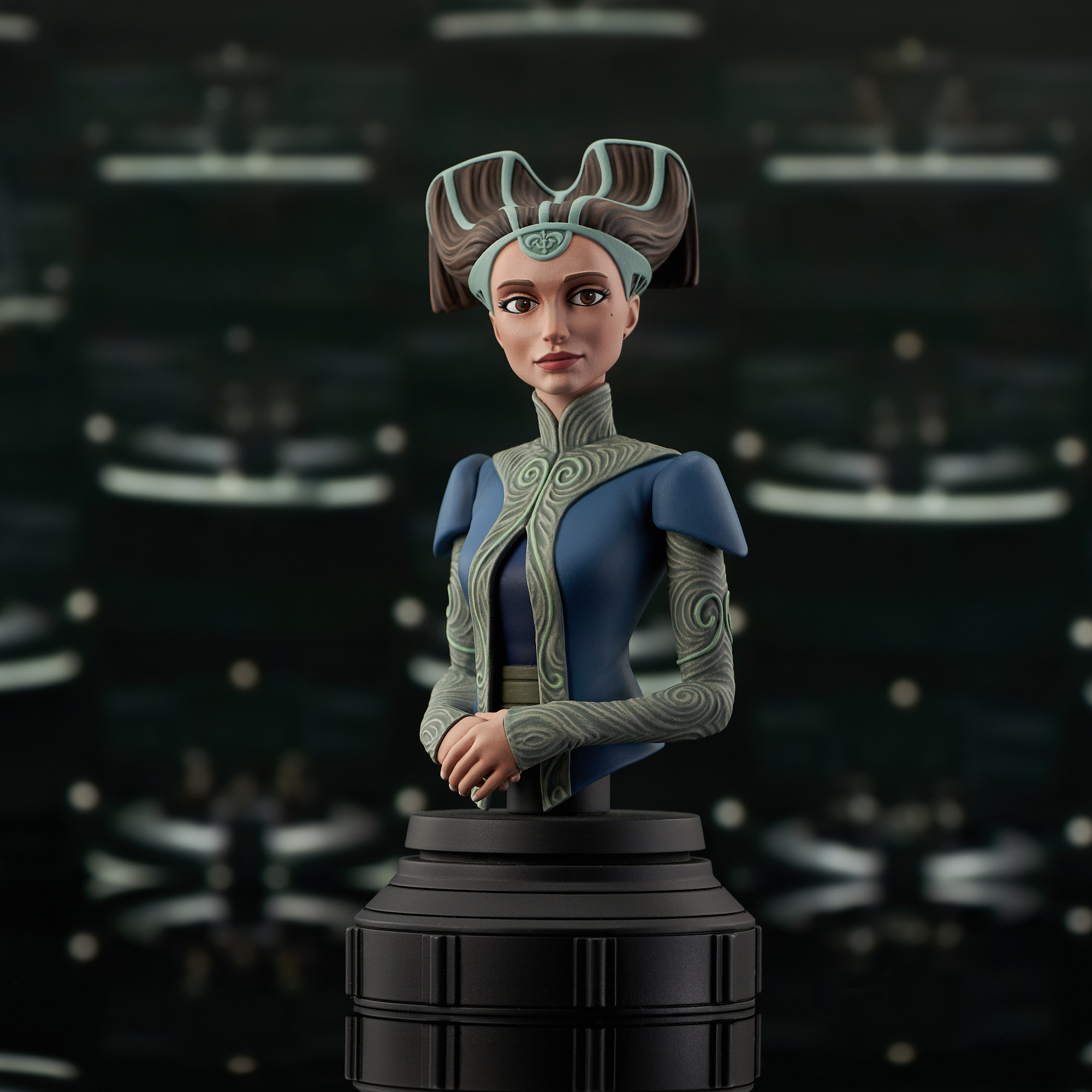 Star Wars The Clone Wars Padme Amidala Animated 1/7 Scale Mini-Bust
A Gentle Giant Ltd. release! The mother of Luke and Leia and the wife of Anakin Skywalker looks resplendent in her Senatorial garb in this all-new 1/7 scale mini-bust based on her appearance in the Clone Wars cartoon. Measuring approximately 6 inches tall atop a pedestal base, Padme Amidala joins the rest of the cast of Clone Wars and Rebels as a mini-bust, and comes packaged with a numbered certificate of authenticity in a full-color window box. Limited to 3,000 pieces. SRP: $90.00
Star Wars The Mandalorian Bo-Katan Kryze Legends in 3D 1/2 Scale Bust
A Gentle Giant Ltd. release! Bo-Katan Kryze is a legend on her homeworld of Mandalore, and now she's a Legend in 3-Dimensions! Depicting the freedom fighter as she appeared on Season 2 of The Mandalorian, this 10-inch, approximately ½ scale resin bust features detailed sculpting and paint applications. Limited to only 1000 pieces, it comes packaged in a full-color box with a numbered certificate of authenticity. SRP: $200.00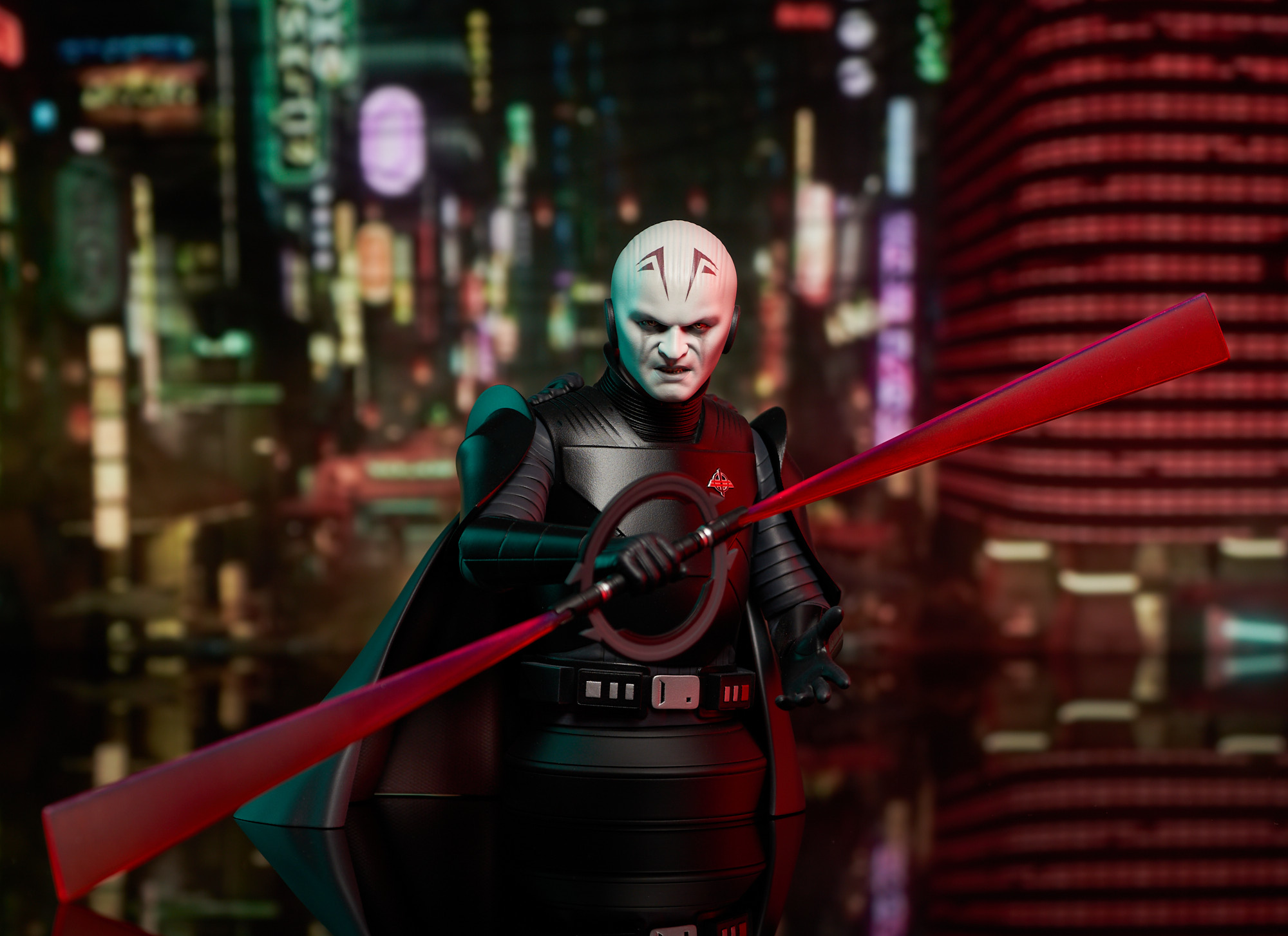 Star Wars Obi-Wan Kenobi Grand Inquisitor 1/6 Scale Mini-Bust
A Gentle Giant Ltd. release! Revenge does wonders for the will to live, and the Grand Inquisitor is living proof! After surviving a betrayal by the Third Sister in Obi-Wan Kenobi, the Inquisitor takes back his rank and leaves her for dead, making him one of the coldest villains in the Star Wars mythos. Now, he's one of the coolest mini-busts in the Star Wars mini-bust line! This all-new 1/6 scale mini-bust stands approximately 6 inches tall atop its pedestal base and features interchangeable double-bladed lightsabers. Limited to only 2000 pieces, it comes packaged in a full-color window box with a numbered certificate of authenticity. SRP: $130.00
Star Wars The Book of Boba Fett Boba Fett Jumbo 12" Figure
A Gentle Giant Ltd. release! Jumbo Fett? Where? The star of The Book of Boba Fett is finally here, in his all-new outfit, and he's a 12-inch Jumbo figure! For the first time in the line, Gentle Giant LTD is capturing the modern-day Boba Fett in the retro style, and he's a full foot of awesomeness! Featuring a vinyl skirt, a blaster and a backpack missile, this figure is a must-have, and it comes packaged on a full-color card in a resealable clamshell blister. SRP: $80.00