​New to Pre-Order: Vision, Scarlet Witch, Iron Giant and More!
Posted by DSTZach on Mar 19th 2021
It's almost time for a new Previews catalog to arrive, full of new items from Diamond Select Toys and Gentle Giant Ltd., and we've got a sneak peek at what's in it! In addition to a new figure based on the popular WandaVision series, and the first-ever set of G.I. Joe Minimates, there are products based on Marvel, Star Wars, The Crow, The Iron Giant and Lord of the Rings! Read on for details, then pre-order through your local comic shop!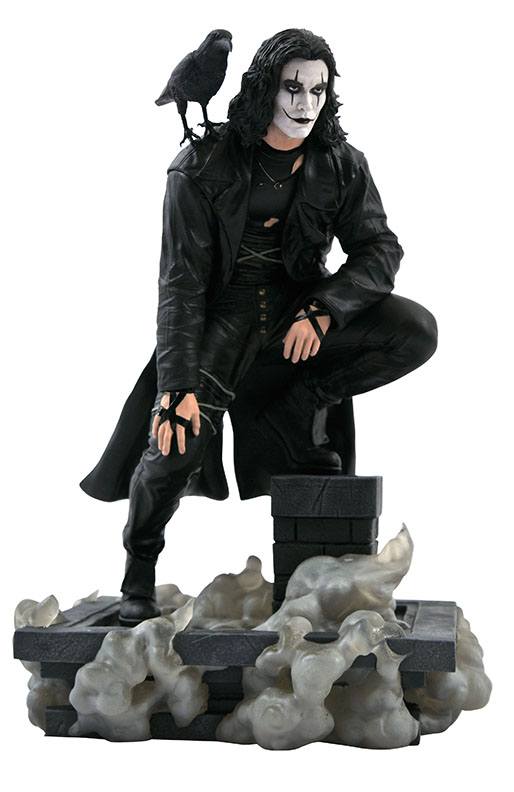 The Crow Movie Gallery Rooftop PVC Diorama
A Diamond Select Toys release! Crouching on a rooftop, Eric Draven stalks his prey in this all-new Gallery Diorama based on the cult-favorite movie The Crow! With the Crow on his shoulder and steam circling his feet, this approximately 10-inch sculpture is made of high-quality PVC and features detailed sculpting and paint applications. It comes packaged in a full-color window box. Designed by Caesar, sculpted by Rocco Tartamella. (Item #APR212361, SRP: $49.99)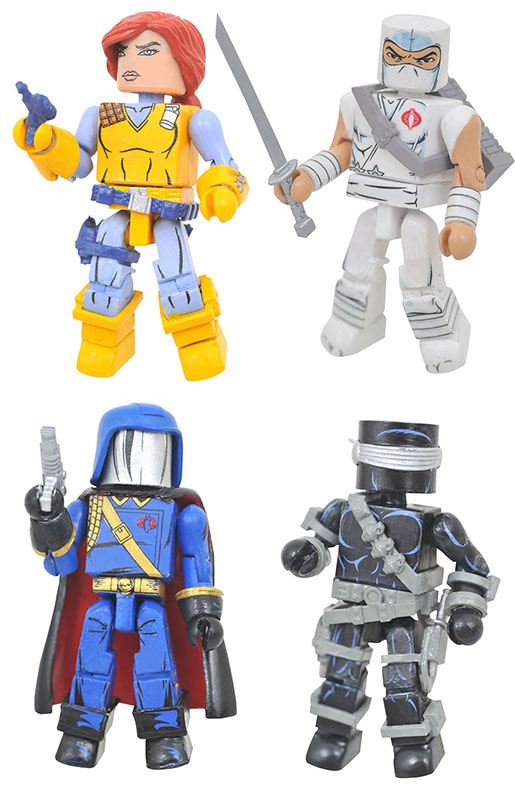 G.I. Joe: A Real American Hero Minimates Series 1 FCBD Box Set
A Diamond Select Toys release! Yo, Joe! Who fights for freedom wherever there's trouble? The all-new G.I. Joe Minimates line! Based on the popular Real American Hero looks, this first box set includes Snake Eyes, Scarlett, Storm Shadow and Cobra Commander, and it's exclusively available to retailers participating in Free Comic Book Day! Each 2-inch Minimates mini-figure features 14 points of articulation and includes interchangeable parts and accessories, and all come packaged in a full-color blister card. Designed by Barry Bradfield! (Item #APR210053, SRP: $29.99)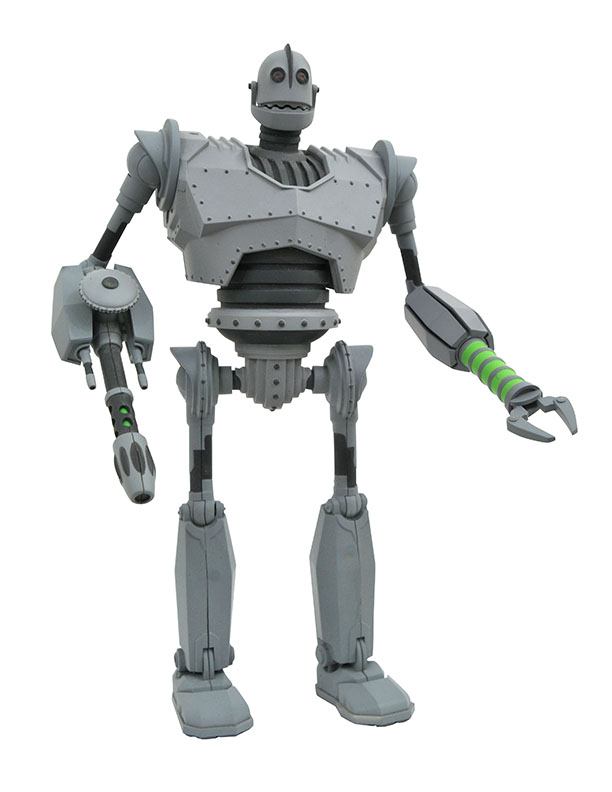 Iron Giant Select Battle Mode Action Figure
A Diamond Select Toys release! The Iron Giant attacks! Celebrate the dark side of the Iron Giant with this all-new action figure featuring gun hands, undented angry head and of course, light-up eyes!,This approximately 8.5-inch action figure features approximately 16 points of articulation and features detailed sculpting and paint applications. It comes packaged in our display-ready Select action figure packaging. (Item #APR212366, SRP: $29.99)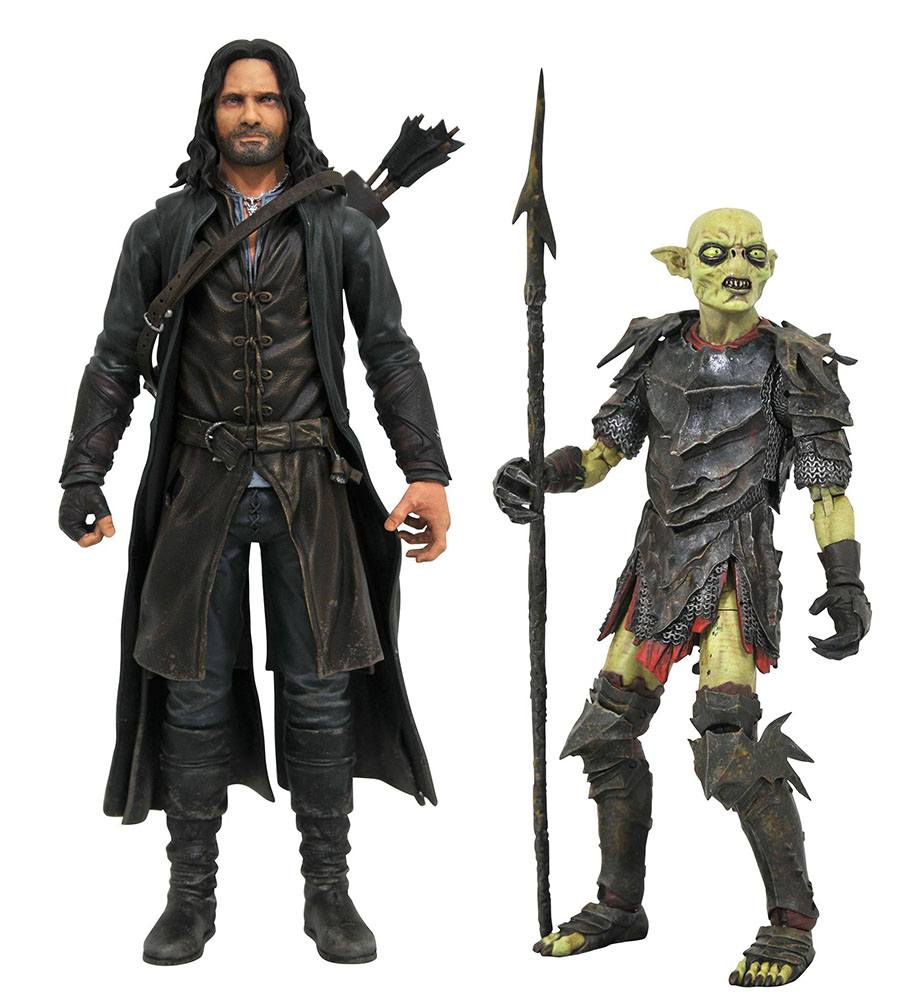 Lord of the Rings Deluxe Action Figures Series 3 Asst. (Orc & Aragorn)
A Diamond Select Toys release! The Evil one has risen! Complete your 13-inch build-a-figure of Sauron with this, the third series of Lord of the Rings Deluxe action figures! Aragorn and a Moria Orc are the two figures in this series, each with weapons and accessories – the orc even includes alternate heads so you can customize different orcs! Each 7-inch scale figure features multiple points of articulation, as well as detailed sculpting and paint applications. Each comes packaged in a full-color Deluxe window box. Designed by Eamon O'Donoghue, sculpted by Gentle Giant Studios! (Item #APR212365, SRP: $29.99/ea.)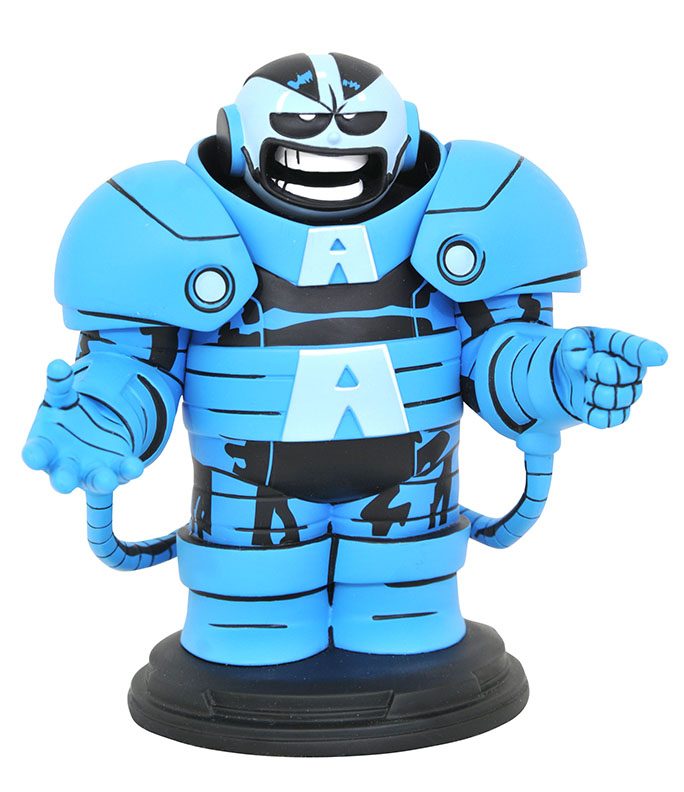 Marvel Animated Style Apocalypse Statue
A Diamond Select Toys release! The first mutant makes his animated-style debut in this all-new statue based on the Marvel artwork of Skottie Young! Measuring approximately 4.5 inches tall and almost as wide, this detailed statue of X-Men foe Apocalypse features art-accurate paint applications, and comes on a simple black base. Limited to only 3,000 pieces, it comes packaged in a full-color box with a numbered certificate of authenticity. Sculpted by Paul Harding! (Item #APR212359, SRP: $59.990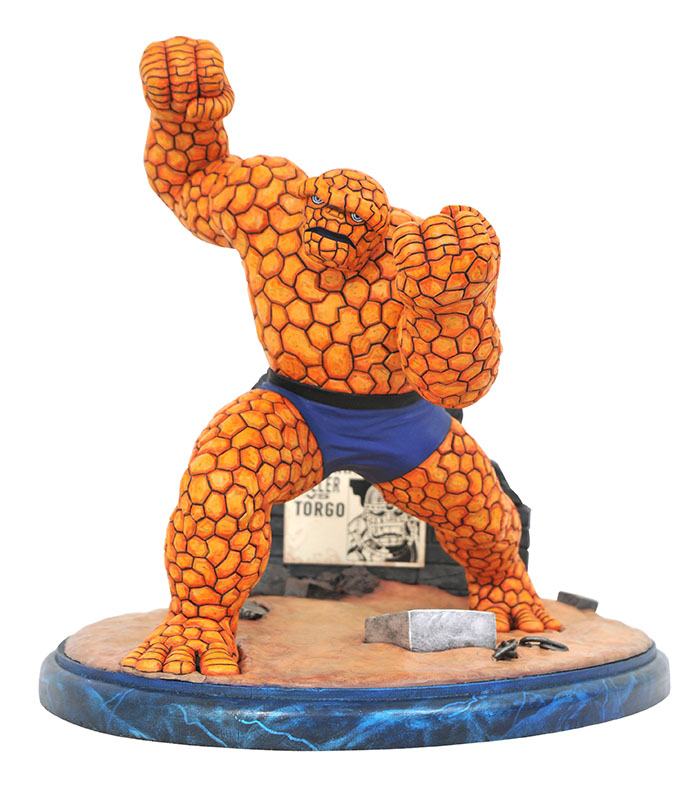 Marvel Comic Premier Collection Thing Resin Statue
A Diamond Select Toys release! It's clobberin' time! The ever-loving blue-eyed Thing arrives in the Premier Collection as an all-new classically styled statue! The Fantastic Four's rocky curmudgeon strikes a fighting pose in front of a poster announcing an upcoming wrestling match, and clocks in at about 9 inches tall. Featuring detailed sculpting and paint applications, this statue is limited to only 3,000 pieces and comes packaged in a full-color box with a certificate of authenticity. Designed by Caesar, hand-sculpted by Clayburn Moore! (Item #APR212360, SRP: $175.00)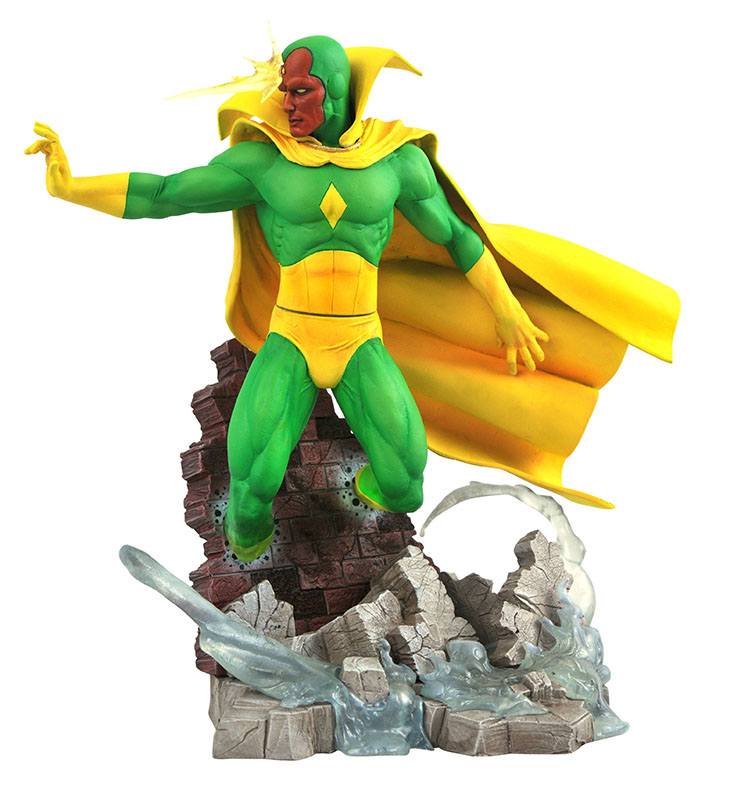 Marvel Comic Gallery VS Vision PVC Diorama
A Diamond Select Toys release! The Vision appears! A long-awaited addition to the Marvel Gallery line, this approximately 10.5-inch-tall sculpture of the synthezoid Avenger depicts the Vision on a battlefield base, phasing through a piece of rubble. Featuring detailed sculpting and paint applications, it comes packaged in a full-color window box. Designed by Nelson X. Asencio, hand-sculpted by Jean St. Jean! (Item #APR212358, SRP: $49.99)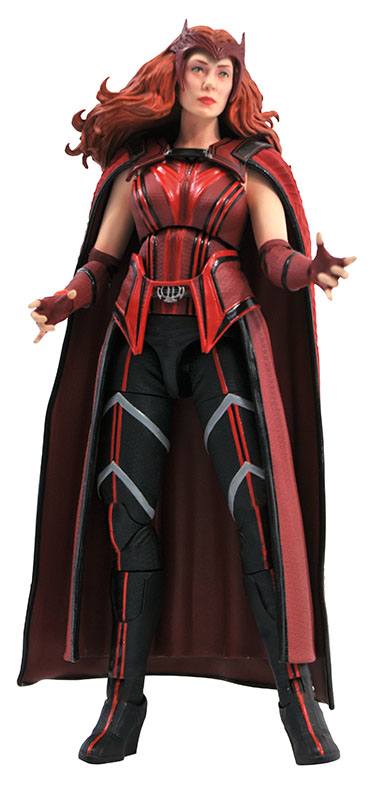 Marvel Select Scarlet Witch TV Action Figure
A Diamond Select Toys release! It's Wanda! The Scarlet Witch arrives in the Marvel Select action figure line with a figure based on her final look in the WandaVision Disney+ series! Measuring approximately 7 inches tall, Wanda wears her latest outfit, and comes packaged in the famous Select action figure packaging. It features 16 points of articulation, as well as detailed sculpting and paint applications and an interchangeable hooded head. Sculpted by Gentle Giant Studios! (Item #APR212357, SRP: $29.99)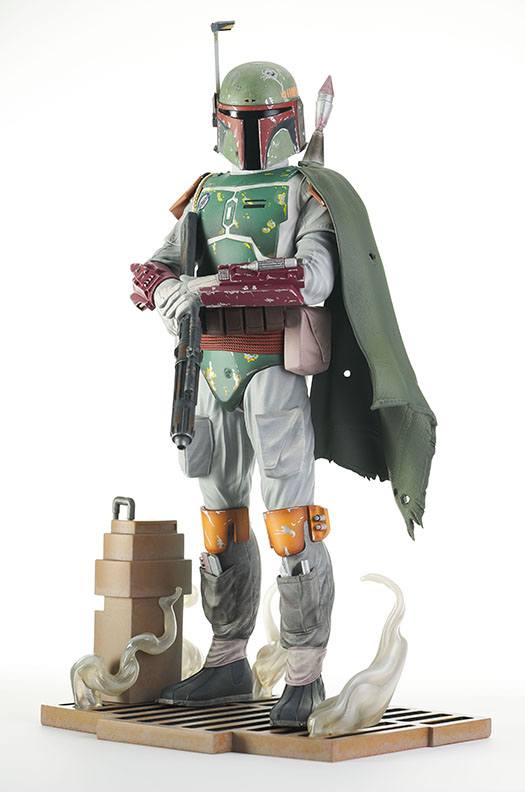 Star Wars Return of the Jedi Boba Fett Milestones 1/6 Scale Statue
A Diamond Select Toys release! Boba is back! The recently revived bounty hunter is captured at his moment of triumph, in Star Wars: Return of the Jedi, in this all-new 1/6 scale statue. Standing in Jabba's throne room, blaster at the ready, Boba Fett measures approximately 12 inches tall and features detailed sculpting and paint applications. Limited to only 1,000 pieces, it comes packaged with a numbered certificate of authenticity in a full-color box. Sculpted by Joe Menna! (Item #APR212362, SRP: $250.00)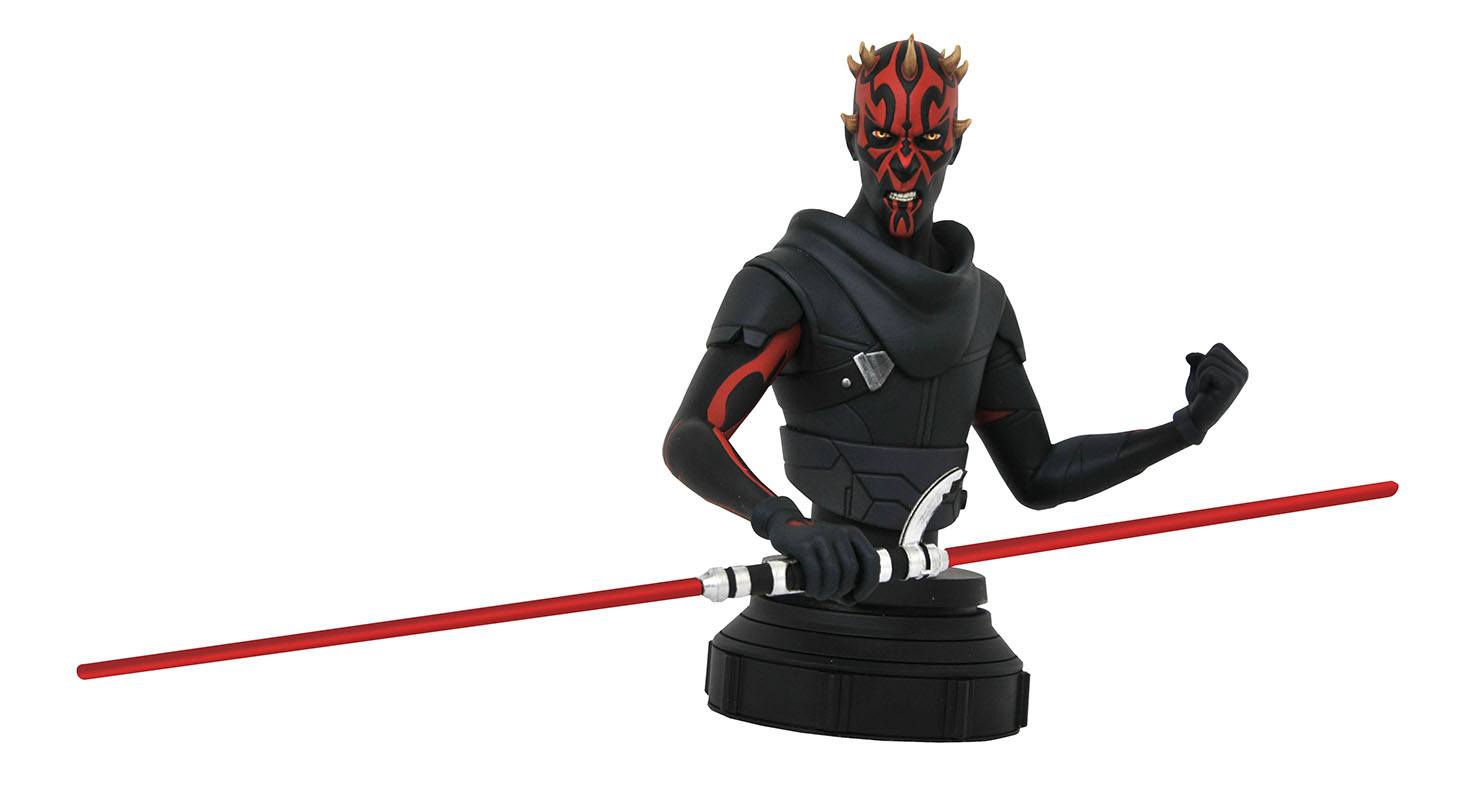 Star Wars Rebels Darth Maul 1/7 Scale Mini-Bust
A Diamond Select Toys release! The Sith warrior is now the latest animated bust! Based on his appearance in the Star Wars: Rebels animated series, Darth Maul wields his double-bladed lightsaber in preparation of facing his Jedi opponents. Measuring approximately 6 inches tall, this 1/7 scale mini-bust features detailed sculpting and paint applications. Limited to only 3,000 pieces, it comes packaged with a numbered certificate of authenticity in a full-color window box. Designed by Barry Bradfield, sculpted by Paul Harding! (Item #APR212363, SRP: $59.99)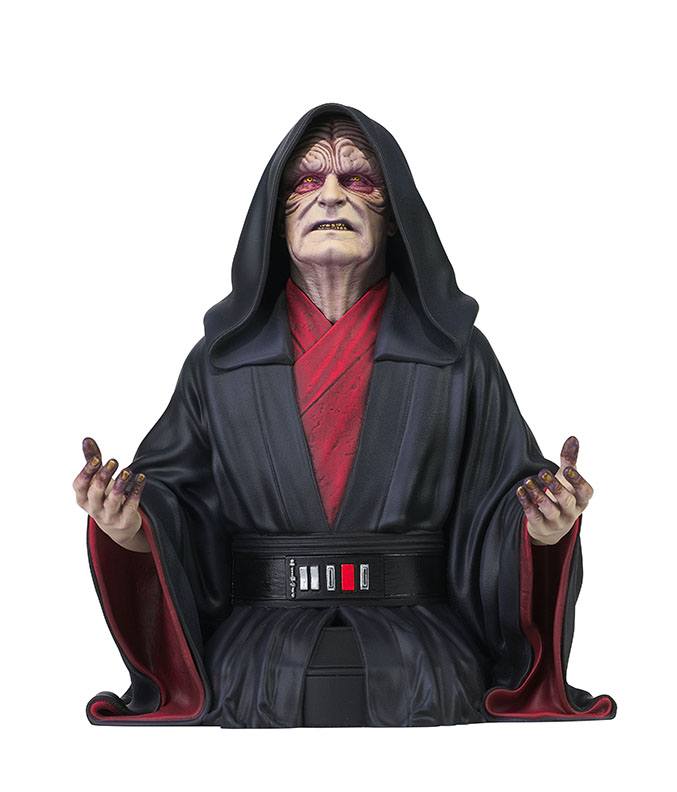 Star Wars Rise of Skywalker Emperor Palpatine 1/6 Scale Mini-Bust
A Diamond Select Toys release! As seen in Star Wars: The Rise of Skywalker, the evil Emperor Palpatine returns! This all new 1/6 scale bust captures Sith lord Palpatine's appearance in the latest Star Wars film, and stands approximately 7 inches tall. Limited to only 1500 pieces, it comes packaged in a full-color box with a numbered certificate of authenticity. Designed by the Silva Bros., sculpted by Gentle Giant Ltd.! (Item #APR212364, SRP: $120.00)