Coming in 2024: The Matrix, The Last Ronin and More!
Posted by DSTZach on May 19th 2023
It's almost June, which means the June issue of Previews is on its way to your door! In that catalog, you'll find the newest products from Diamond Select Toys and Gentle Giant LTD, including their first product based on The Matrix, new items from Marvel and Star Wars, plus the Iron Giant, the Last Ronin, the Muppets and Avatar the Last Airbender! It's the best of all worlds! Find a store near you at comicshoplocator.com and pre-order there, or order online at Diamondselecttoys.com or gentlegiantltd.com!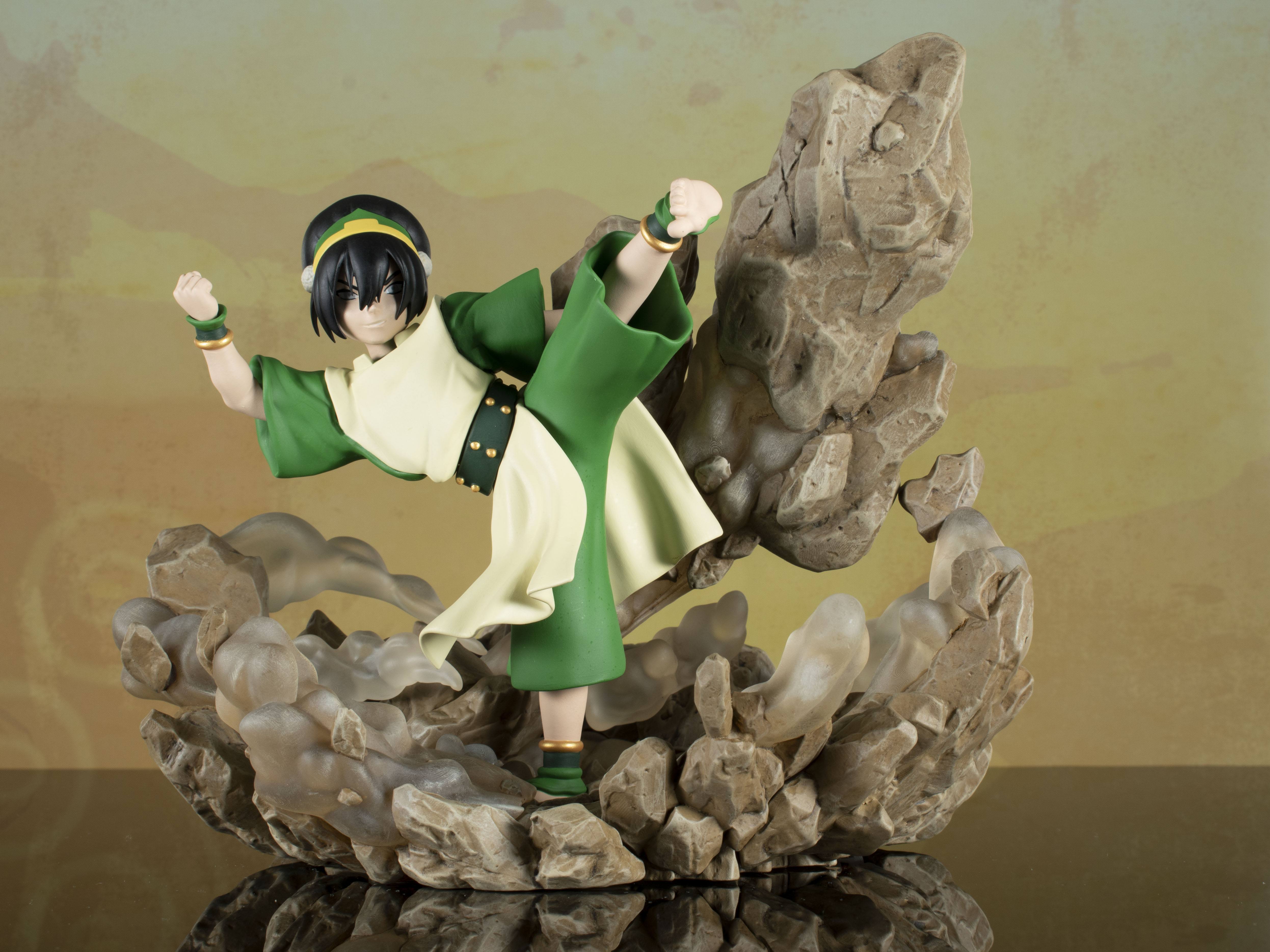 Avatar The Last Airbender Gallery Toph PVC Diorama
A Diamond Select Toys release! Air. Water. Fire. Earth. Each of the elements has a Bender, and the Earthbender has finally arrived! Toph, of the Earth Nation, launches a kick, as well as a generous helping of terrain, at an unseen opponent in this all-new Gallery Diorama. Made of high-quality PVC, it stands approximately 9 inches tall and features detailed sculpting and articulation, and it comes packaged in a full-color box. Designed by Uriel Caton, sculpted by Salvador Gomes. SRP: $59.99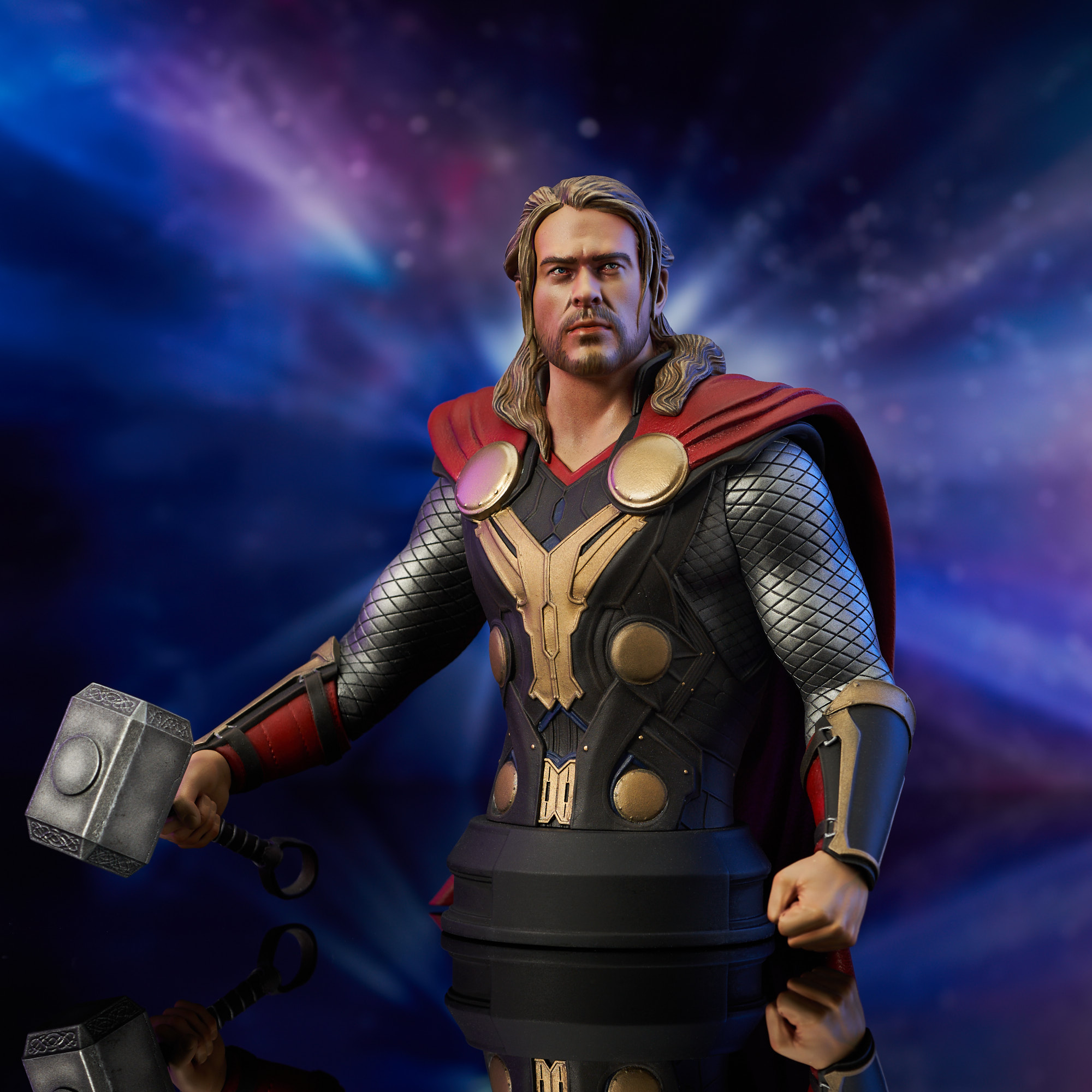 Marvel Thor Dark World Thor 1/6 Scale Mini-Bust
A Gentle Giant LTD release! Return to the Dark World! Inspired by his appearance in the second Thor movie, this 1/6 scale mini-bust of the Odinson himself depicts him in his traditional garb, his hammer Mjolnir in hand. Measuring approximately 6 inches tall atop a pedestal base, this detailed portrait is limited to only 3,000 pieces, and comes packaged in a full-color box with a numbered certificate of authenticity. Designed by the Silva Bros. sculpted by Joe Menna! SRP: $130.00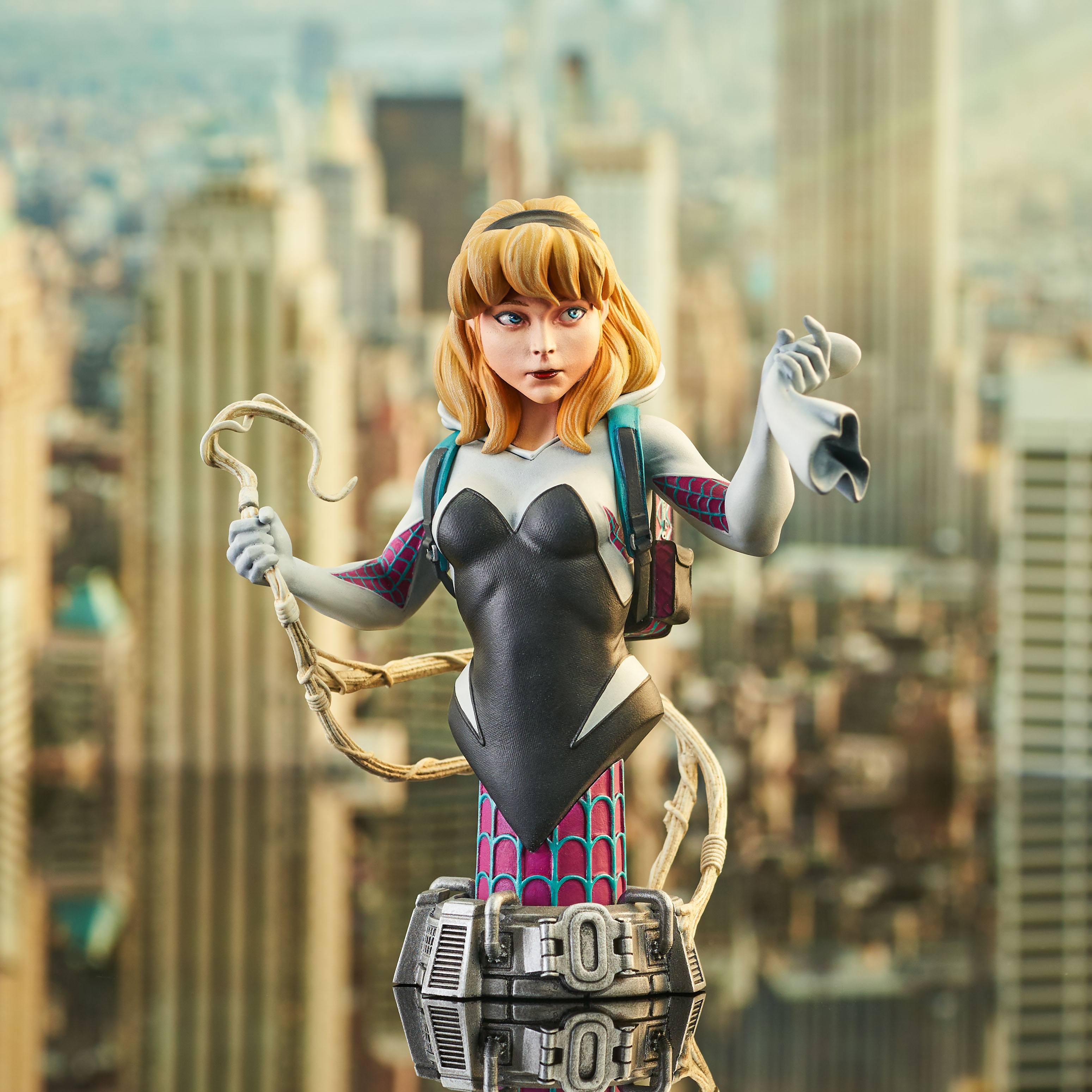 Marvel Comic Ghost Spider 1/7 Scale Mini-Bust
A Diamond Select Toys release! You may know her as Spider-Gwen, but to the world she's Ghost Spider! This 1/7 scale, approximately 6-inch resin mini-bust depicts the super-heroine unmasked, with mask in hand, backpack on her back and web lines flying! Limited to only 3,000 pieces, this beautiful portrait comes packaged in a full-color box with a numbered certificate of authenticity. Designed by Nelson Asencio, sculpted by Juan Pitluk! SRP: $90.00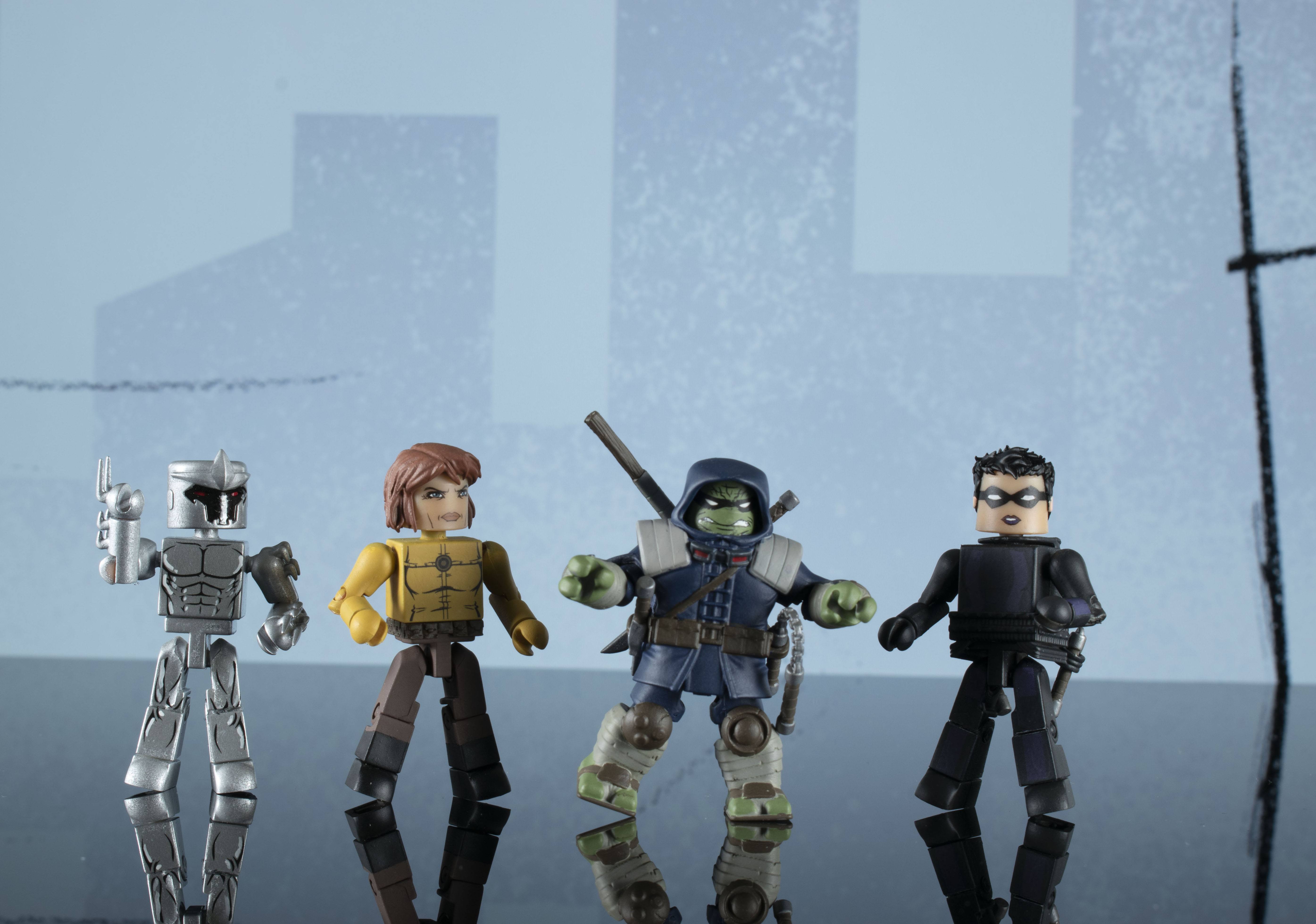 TMNT Minimates Last Ronin Box Set
A Diamond Select Toys release! In the future, three of the Ninja Turtles are dead. Who has survived, and what has become of him? In this all-new Minimates box set, the Last Ronin teams up with April O'Neil and her daughter Casey Marie Jones to take on the forces of the Shredder's son, Oroku Hiroto. Each 2-inch Minimate features multiple points of articulation and fully interchangeable parts and accessories. All four come packaged in a full-color window box with a fifth panel flap. Designed by Barry Bradfield! SRP: $35.00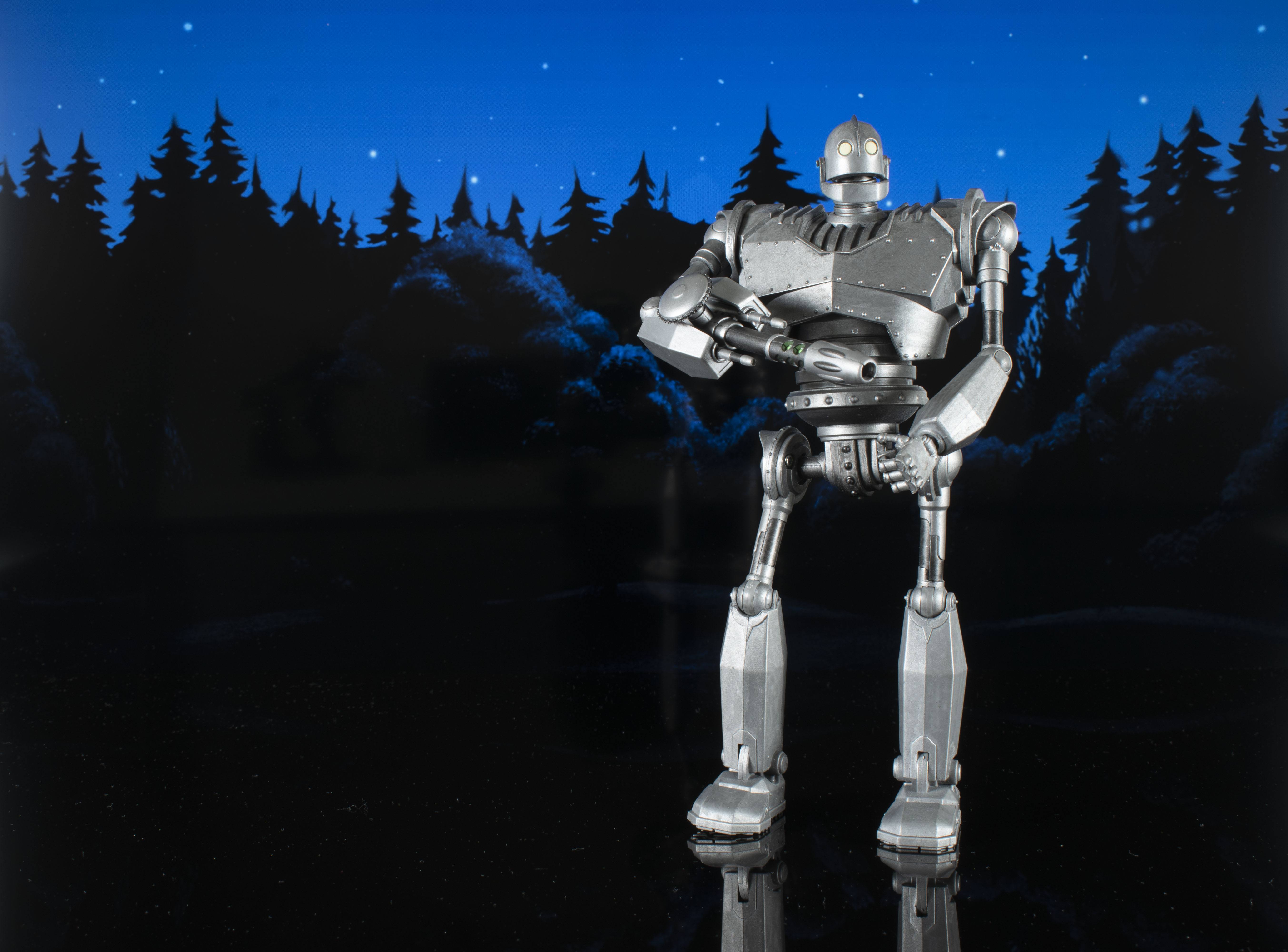 Iron Giant Select Metallic Action Figure
A Diamond Select Toys release! Be who you choose to be! The Iron Giant returns with a new look in this all-metallic release! Featuring light-up eyes and interchangeable hands, including a laser gun hand, this approximately 8-inch action figure features multiple points of articulation and runs on two button-cell batteries (included). It comes in Select-style action figure packaging with side-panel artwork for shelf reference. SRP: $29.99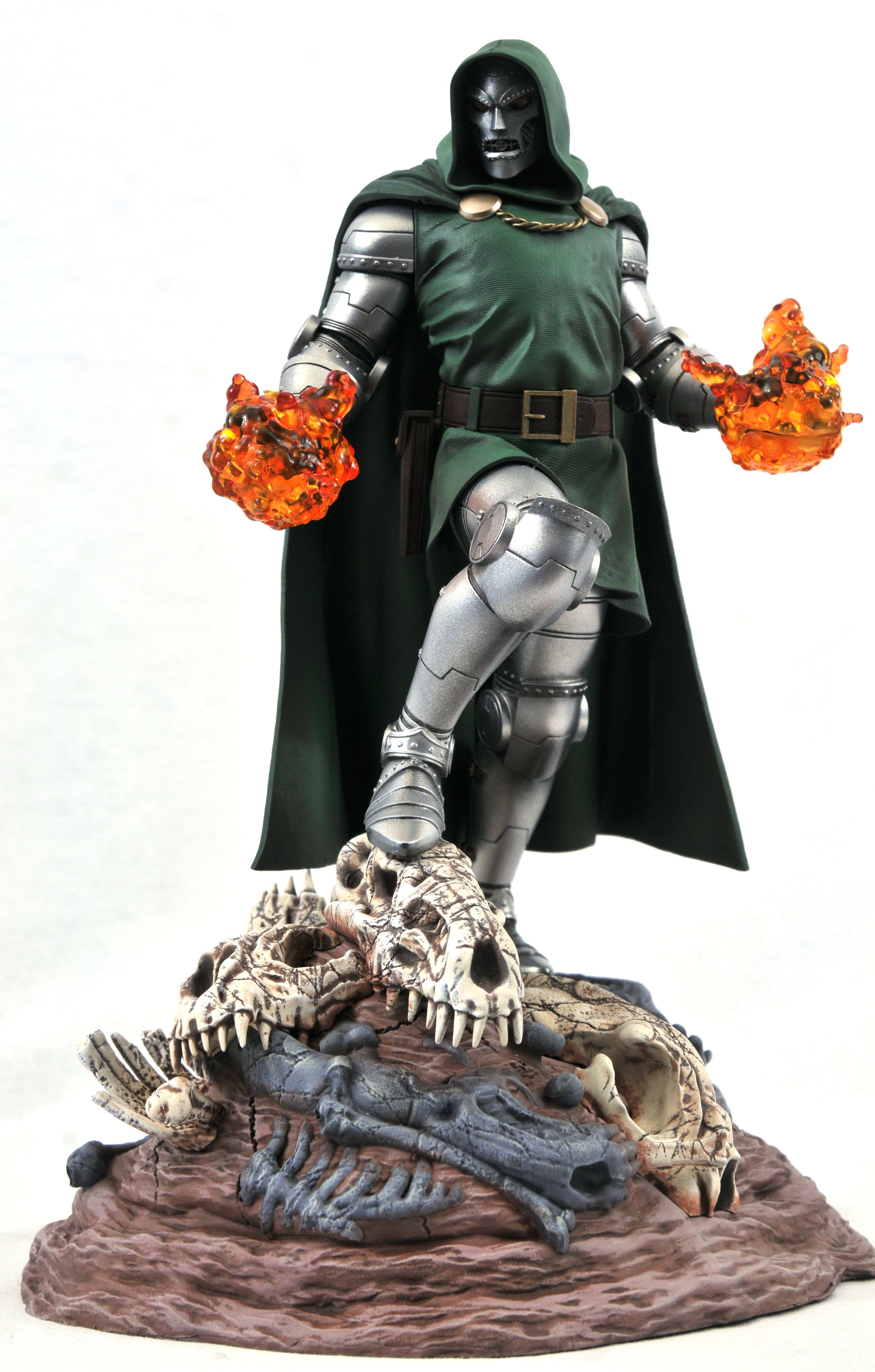 Marvel Gallery Comic Doctor Doom PVC Diorama
A Diamond Select Toys release! It's Victor Von Doom vs. prehistory in the newest Marvel Comic Gallery Diorama! The Fantastic Four foe stands on top of a pile of dinosaur skulls, his fists glowing as if preparing to take on even more giant reptiles. Measuring approximately 10 inches tall, it features detailed sculpting and paint applications and comes packaged in a full-color window box. Formerly a Wal-Mart exclusive. Designed by Caesar, sculpted by Alterton! SRP: $59.99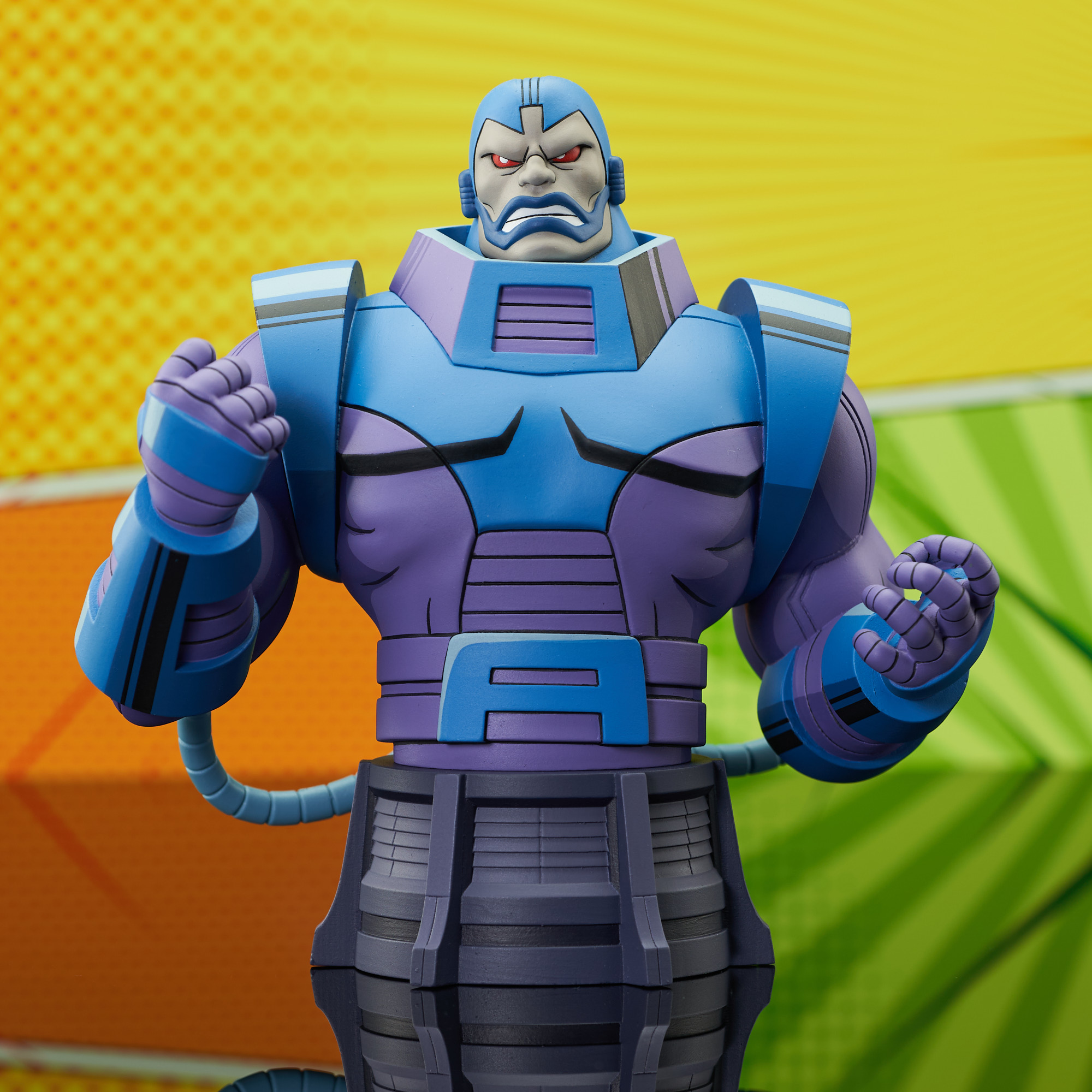 Marvel X-Men Animated Apocalypse 1/7 Scale Mini-Bust
A Diamond Select Toys release! The first mutant is here to menace your X-Men collection! Based on his appearance in the 1990s' X-Men: The Animated Series, this approximately 6-inch mini-bust features detailed sculpting and cartoon-accurate paint applications. Limited to only 3,000 pieces, if comes packaged in a full-color box with a numbered certificate of authenticity. Designed by Barry Bradfield, sculpted by Paul Harding! SRP: $100.00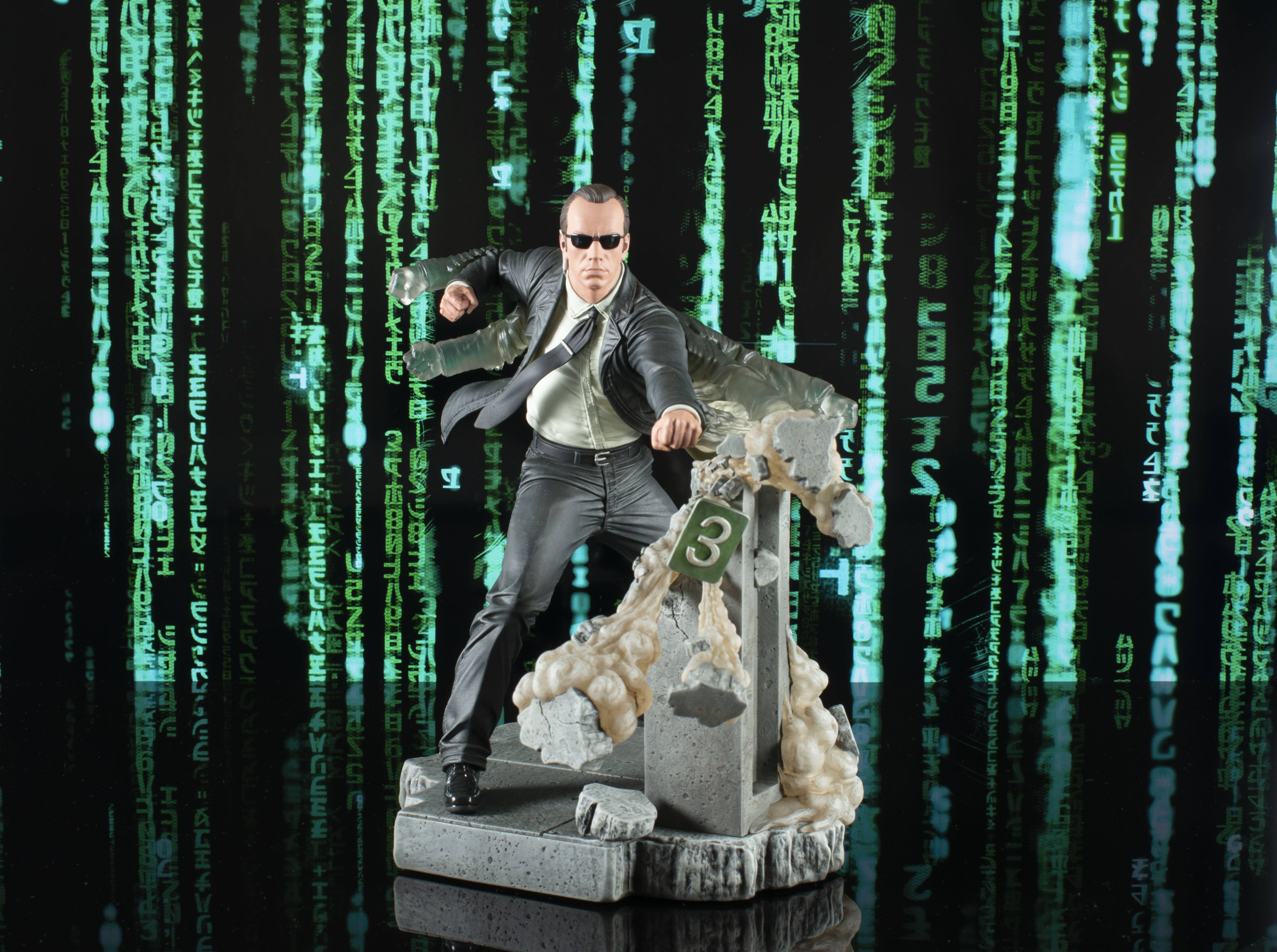 Matrix Gallery Agent Smith PVC Diorama
A Diamond Select Toys release! Hello, Mr. Anderson! Take the red pill and wake up to a new line of Matrix collectibles from Diamond Select Toys! The inaugural release, a Gallery Diorama of Agent Smith in full attack mode, is made of high-quality PVC and measures approximately 10 inches tall. It features detailed sculpting and paint applications and comes packaged in a full-color window box. Designed by Nelson X. Asencio, sculpted by Jorge Santos Souza! SRP: $59.99
Muppets Deluxe Action Figures Backstage Box Set
A Diamond Select Toys release! It's time to get things started again! Looking to fill gaps in your Muppets collection, or just give them a place to hang out between shows? Then you need the Muppets Action Figures Backstage Box Set! Made to look like the backstage area of the Muppet Theater, this box set of action figures includes Kermit, Fozzie (with hat), Gonzo, Scooter, Mahna Mahna and Bean Bunny! Each action figure features multiple points of articulation. Packaged in a full-color window box. SRP: $90.00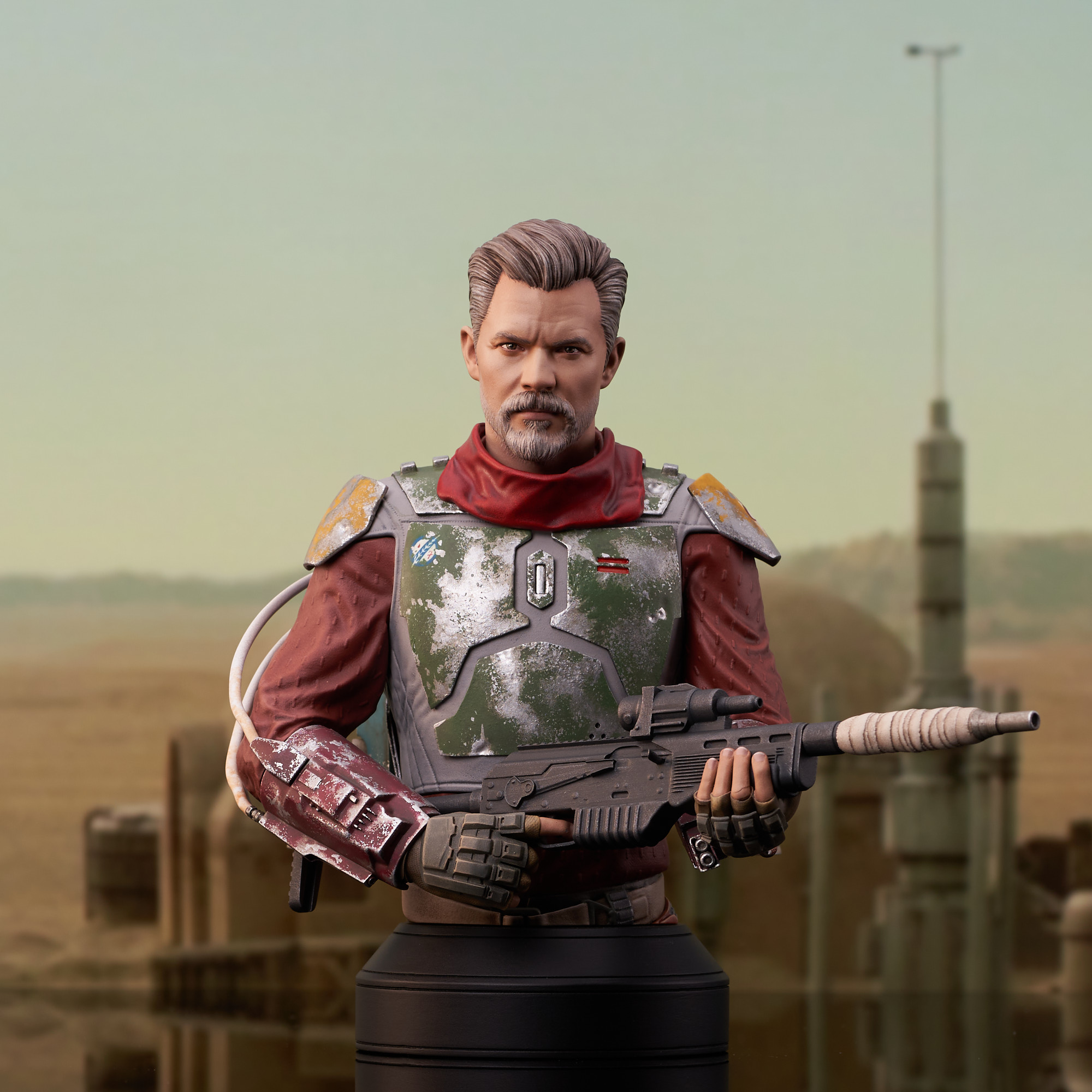 Star Wars The Mandalorian Cobb Vanth 1/6 Scale Mini-Bust
A Gentle Giant LTD release! The Marshal of Mos Pelgo has arrived! Wearing Boba Fett's old armor, the law enforcer from Tatooine is ready to join the 1/6 scale mini-bust collection from Gentle Giant LTD! Measuring approximately 6 inches tall atop a pedestal base, this bust includes interchangeable helmeted and unhelmeted heads. Limited to only 3,000 pieces, it comes packaged in a full-color box with a numbered certificate of authenticity. SRP: $150.00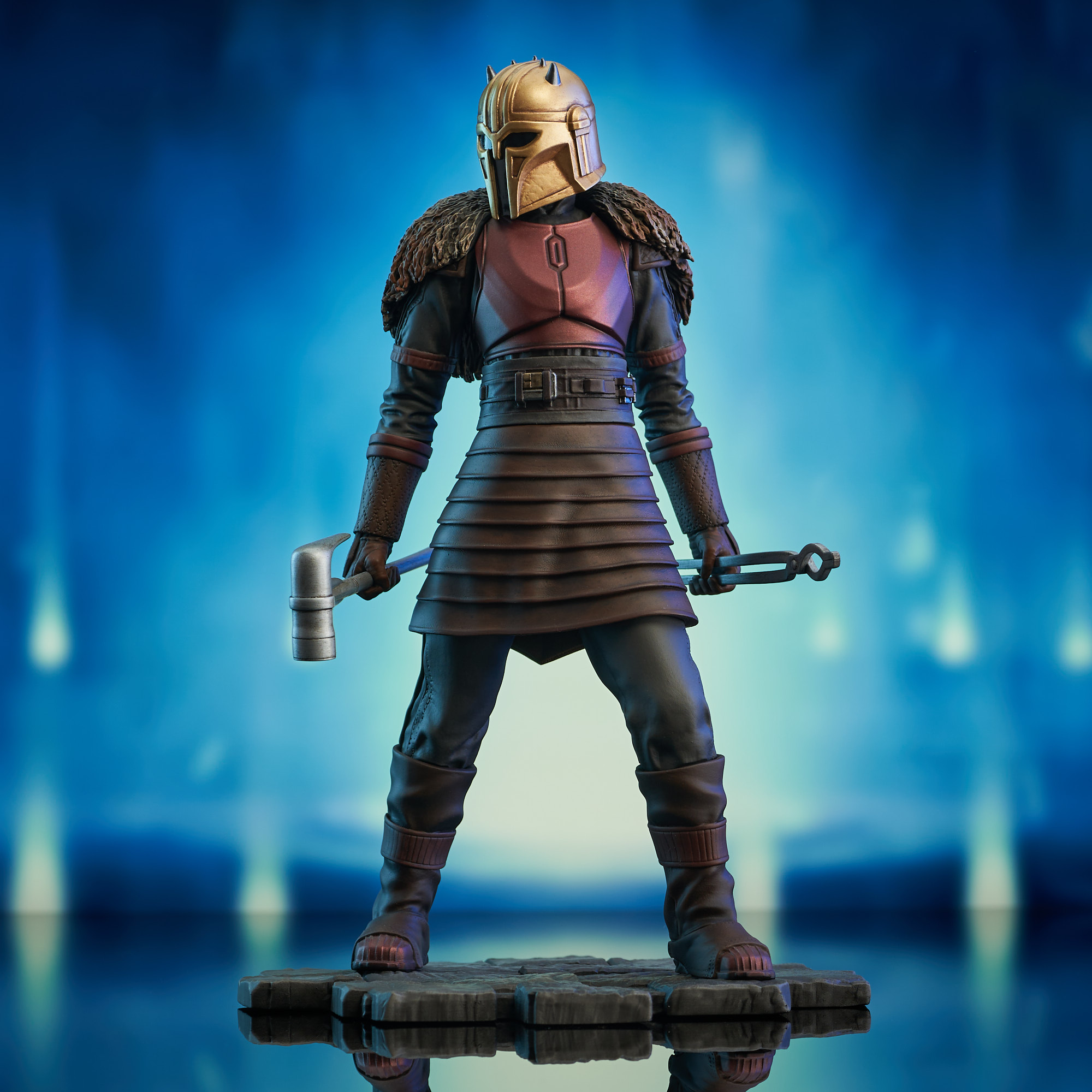 Star Wars The Mandalorian Armorer 1/7 Scale Premier Collection Statue
A Gentle Giant LTD release! This is the Way! The Mandalorian Armorer, worker of beskar and wielder of a deadly set of hammer and tongs, is now the newest Premier Collection statue from Gentle Giant LTD! Standing approximately 10 inches tall atop a diorama base, this statue features detailed sculpting and paint applications. Limited to only 3,000 pieces, it comes packaged in a full-color box with a numbered certificate of authenticity. SRP: $200.00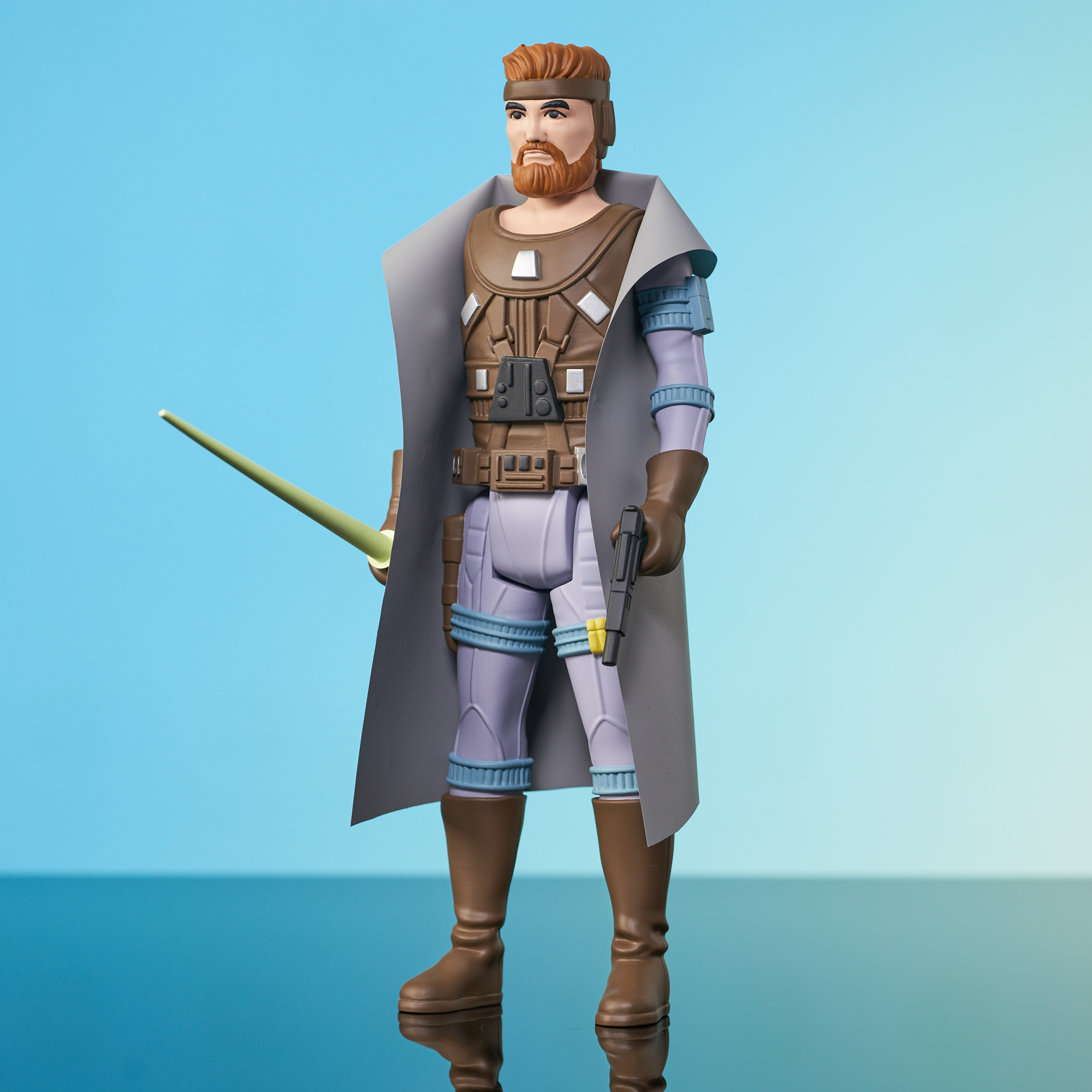 Star Wars Concept Han Solo Jumbo 12" Figure
A Gentle Giant LTD release! Travel back to the dawn of the Star Wars saga with the newest concept Jumbo figure from Gentle Giant LTD! Han Solo, sporting his original beard as seen in the original Ralph McQuarrie artwork, stands approximately 12 inches tall with five points of articulation, plus lightsaber and blaster accessories. Inspired by the Kenner figures of old, it comes packaged on a full-color retro-style card back, in a resealable blister case. SRP: $80.00